The 2013 REX HILL Willamette Valley Pinot Noir received a Silver medal at the Drinks Business Global Pinot Noir Masters for the second year in a row!

Nine Masters of Wine and a Master Sommelier met to judge more than 300 global Pinot Noirs. The Global Pinot Noir Masters recognizes and rewards the finest Pinot Noirs on the world stage and is in its third year of competition. The results will be featured in the April issue of The Drinks Business, as well as online.

While attending the Oregon Wine Symposium in Portland last week, A to Z, REX HILL and a few other wineries were able to present some of their research and development projects. I had the opportunity to present a project I supervised last harvest at REX HILL.
There are two distinct phases to make wine from Pinot Noir once the grapes have been harvested and put in a vessel:
The Cold Soak Phase which is when the berries or clusters are left soaking in their juice at cold temperature. This is when we will typically extract the anthocyanins, which are pigments responsible for the color of the wine.
The Alcoholic Fermentation Phase happens at a warmer temperature, and is when you extract most of the tannins responsible for the structure of the wine.
We designed our trial to be able to quantify how much of the anthocyanins and tannins would be extracted during the cold soak period. After leaving the must for two weeks at 40F we ran our first batch of analyses. We then pulled a barrel worth of juice and fermented it in order to see if the alcoholic fermentation would, in any way, affect these numbers. We were hoping to create a wine that has a dark color but a lighter body. The must left in the tank was fermented traditionally with native yeast and got a couple of daily pump overs or punch downs and would serve as a reference point.
We got some good results from this trial and we thought it would be great to publically share what we have learned. So here I am, presenting the trial, answering questions and explaining why we did what we did to a public who was very appreciative of the conversation. They had the opportunity to taste both wines: the wine made from juice fermented in the barrel and the wine made traditionally. The wine fermented in barrel has a good color, is supple on the palate and exhibits pleasant and rich aromatics; it has been often compared to a wine from Beaujolais. On the other hand, the wine fermented in tank shows concentration, a dark color, complexity and great structure. People had, of course, different opinions on which wine was their favorite but the common factor was that they were all excited by the fact that we were trying to push the envelope of understanding how to make better wines.
From a personal point of view, it was great to interact with some of my fellow colleagues on a subject we are all passionate about. It felt good to be an active member of the Oregon winemaking community and to represent A to Z and REX HILL at a public event.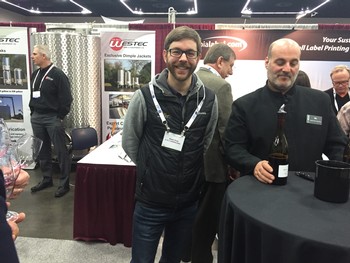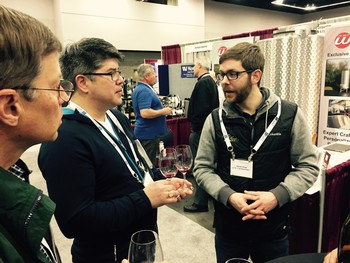 "REX HILL's esteemed roster of estate-grown wines are farmed biodynamically, and the line-up also includes offerings from top Oregon growers. Visitors have the opportunity to sample these wines in a variety of ways, up to a $65 "V.I.P." tour of the vineyard and winery and a tasting of matured wines paired with cheese. Call ahead for information about wine classes and tasting dinners."
Thank you for the kind words Food & Wine Magazine!
Learn more about our tours and tastings
See the list by Food & Wine Magazine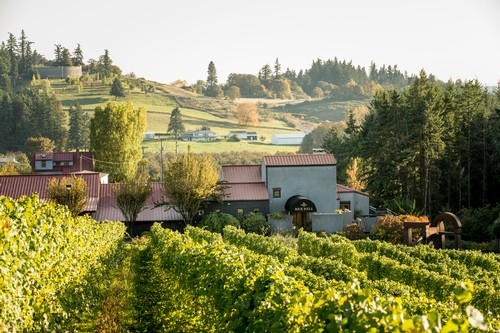 One hundred sheep joined our vineyard crew this spring to pitch in and graze the cover crop at our certified Biodynamic, estate vineyard, Jacob-Hart. They save on tractor work and naturally fertilize the vineyard but move on in the next few weeks as budbreak gets closer.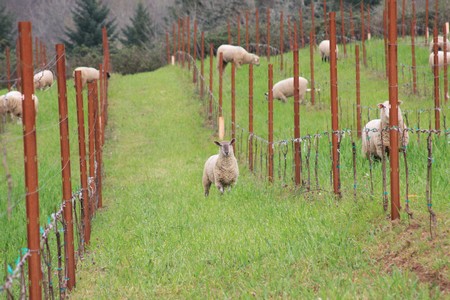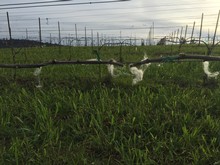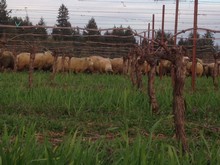 After the earthquake hit the heart of Napa, KGW visited REX HILL to investigate our preparedness. Oregon is due for an enormous earthquake at an estimated 9.0 magnitude! If this were to occur, Kelly House of the Oregonian reported that it would take up to three months just to restore electricity in the Willamette Valley alone!
Despite the tremendous care we take with our wines, the safety of our employees is a top priority. We have plans in place for fires, earthquakes, and other natural disasters and have occasional, unannounced drills to measure our preparedness. REX HILL, like many Oregon wineries, was originally built around an old building designed for something else (in our case, it was a barn used to dry fruit and nuts). Realistically assessing these old, repurposed structures is very important. Even small measures could make a big difference in an emergency, for instance, adding lighted exit signs, choosing not to stack barrels too high or bolting tanks to reinforced concrete pads.

See our seven tips for emergency procedures.

Once again, REX HILL will be hitting the road for Pinot in the City, this time in Seattle. Join us on September 11th at Sodo Park along with more than 60 Willamette Valley wineries. Maybe you will get a chance to spot Sam Tannahill's harvest beard, a rare treat!
$65/person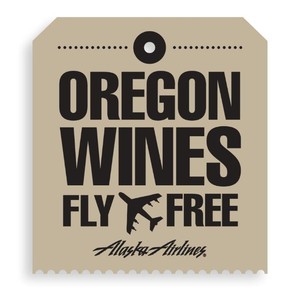 Kicking off Oregon Wine Month, particpating wineries & Alaska Airlines are excited to offer the "Oregon Wines Fly Free" program. Fly into any particpating airport (Medford, Redmond, Eugene, Portland & Walla Walla) and check your wine for FREE on your flight back home.*
Come visit us at the REX HILL Tasting Room and receive complimentary tastings when you show us your Alaska Airlines ticket stub!
*Must be an Alaska Airlines Mileage Plus member; only applicable to 6 bottles or more packed by a participating winery.

It's that time again! REX HILL is hitting the road for another Pinot in the City event to Washington, D.C. on April 2nd, 2014. Sip Pinot Noir, Chardonnay, Riesling, Pinot Gris and more from the over 50 Willamette Valley wineries that are putting this region on the map!
Get to know Sam Tannahill, Founder & Director of Viticulture and Winemaking, and discuss with him your thoughts on what makes Pinot Noir and Chardonnay from the Willamette Valley so distinguishable.
Where: Long View Gallery, 1234 9th St. NW, Washington, D.C.
Time: Trade Tasting from 12 - 4 PM; Consumer Tasting from 6 - 9 PM
Tickets: $75/person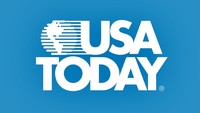 Oregon Wine Tours
Take a tour of the Willamette Valley with Evergreen Escapes, a green-minded tour company that visits wineries that share their commitment to the environment. Mentioned in this article by USA Today, REX HILL, a LIVE certified winery & Biodynamic farmer, will be the very first stop of your day, including a picnic in our beautiful garden.
Our entire A to Z/REX HILL crew gathered outside in the October sunshine to raise a glass and toast the last grapes of the 2013 Harvest with a traditional La Paulée lunch. There was a saber, colorful, grilled sandwiches prepared by resident chef Mike Willison, and lots of good company. It was a great way to celebrate the year's bounty.
Recent Posts
October 12, 2018

June 7, 2018

October 30, 2017

October 23, 2017

September 13, 2017

April 17, 2017

July 21, 2016

June 2, 2016

May 25, 2016

May 18, 2016
Blog Categories
Blog Archives
Our Writers