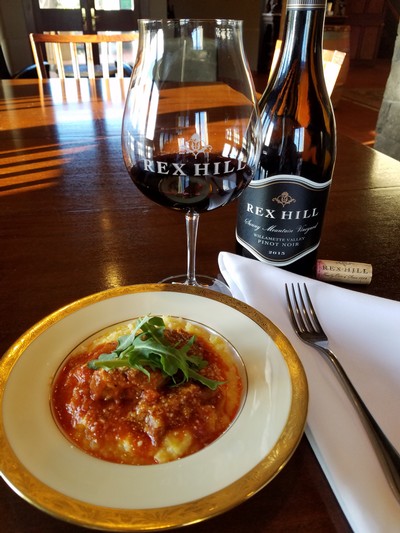 Pork Shoulder Braised with Aromatic Vegetables
Reccomended wine pairing: REX HILL Sunny Mountain Vineyard Pinot Noir
3 Tbs Olive Oil
¼ cup flour
Salt and pepper to taste
4 Pork shoulder, cut into 2 inch cubes
2 large shallots, sliced
2 carrots, cut into medium cubes
4 garlic cloves, smashed
2 sprigs rosemary
2 Tbs tomato paste
2 cups beef stock
2 cups red wine (use a good quality bottle)
Preheat the oven to 350°. Pat the pork dry with a paper towel and dust them with flour. Heat the olive oil over medium-high heat in a large, oven-proof dutch oven with a tight-fitting lid. Add the pork and brown them in the olive oil in a single layer. Cook them in two batches if necessary depending on the size of the pot. Remove once brown and set aside.
Lower the heat to medium and add the vegetables. Brown them slowly until they caramelize, stirring frequently. (About 15-20 minutes.) Add the tomato paste and cook for 1-2 minutes. Add the wine and stock, scraping the bottom of the pan to release any brown, flavorful bits. Return the pork to the pot along with the rosemary. Bring to a boil and then remove from the heat, put the lid on the pot, and place in the oven. Cook for 90 minutes, checking once or twice to make sure the liquid hasn't boiled away. If the pan is dry or starting to burn, add more stock. Once the meat is starting to pull away from the bone and is extremely tender, remove from the oven.
Remove the pork and strain the braising liquid, pressing the vegetables. Skim the fat from the liquid. If the liquid is thin, return it to the pot and cook over high heat until it is reduced. The finished sauce should coat a spoon.
Serve pork and sauce over polenta.
Recent Posts
October 12, 2018

June 7, 2018

October 30, 2017

October 23, 2017

September 13, 2017

April 17, 2017

July 21, 2016

June 2, 2016

May 25, 2016

May 18, 2016
Blog Categories
Blog Archives
Our Writers