The first time I tried the 2013 REX HILL Alpine Vineyard Pinot Noir, I thought it would make an excellent companion to some Italian food. The Alpine has a note of bell pepper and tomato leaf that distinguishes it from the other single-vineyard bottlings REX HILL produced in 2013. It yearned to be coupled with a rich tomato sauce.
I opted for a homemade Margherita Pizza with fresh mozzarella, Roma tomatoes and fresh-picked basil. The pairing wasn't a disappointment. While I'll sometimes take the trouble to make my own pizza dough from scratch, I'm not above buying pizza dough from the store, or in a pinch, calling for delivery.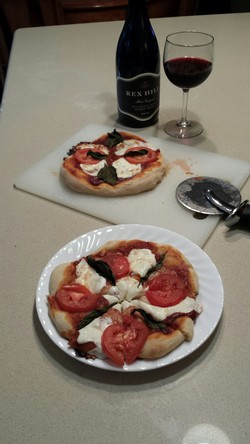 Homemade Margherita Pizza

Ingredients
500 grams all-purpose flour
1/4 teaspoon active dry yeast
1 1/2 teaspoons fine sea salt
350 grams lukewarm water
Directions
In a medium bowl combine the flour, yeast, and salt. Add the water, and mix with your hand until the water is incorporated and a shaggy dough forms. The dough will be sticky, but don't be afraid. Once the dough is incorporated, use your other hand to squeegee any excess dough off your hand and back into the bowl.


Shape the dough into a ball and transfer to a clean large bowl. Cover with plastic wrap and let rise at room temperature in a draft-free place until the dough is doubled in size. This may take up to 18 hours, depending on how warm your kitchen is. I usually plan for an overnight rise. You can make this dough 24 hours in advance by letting the dough rise in the fridge.




Transfer the dough to a floured work surface. Divide into 3 equal portions. Take one portion of dough and gather 4 corners to the center to create 4 folds. Turn seam side down and roll into an even ball. Repeat with remaining portions. Let dough rest, covered, until soft and pliable, about 1 hour.




You're now ready to shape the ball into your pizza. It's tempting to start spinning the dough overhead and tossing it into the air. Resist the temptation. In my experience, it usually ends with a face (and kitchen) full of excess flour. Instead gently pull the edges evenly, using gravity to stretch the dough out into the desired shape. Be careful not to rip the dough.




Preheat your oven to 450 degrees. Get out a 9" cast iron skillet and press the dough into the pan. Load up the dough with your favorite sauces and toppings. Brush a little olive oil around the edge of the dough. Bake your creation in the oven for 15-20 minutes, checking it occasionally for bubbles.




Remove from the oven when the crust is nicely browned and the center of the pizza is cooked.
Recent Posts
October 12, 2018

June 7, 2018

October 30, 2017

October 23, 2017

September 13, 2017

April 17, 2017

July 21, 2016

June 2, 2016

May 25, 2016

May 18, 2016
Blog Categories
Blog Archives
Our Writers