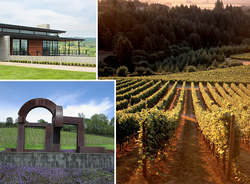 REX HILL Winery & Vineyards
"Set atop the idyllic Rex Hill just as you enter Willamette Valley wine country sits the REX HILL Winery & Vineyards. If you have an opportunity to join a tour of the vineyards, do. The extremely knowledgeable staff makes wine education (even more) fun, and only adds to the overall experience of the visit. Once inside the tasting room, soak up your surroundings. The arched tunnels and exposed brick walls are remnants of the building's original use as a hazelnut processing facility. Now, they add to the décor and serve as a reminder of the history of the land you're standing on. Make sure to taste the REX HILL Reserve Pinot Noir as you wander around the impressive building, or step outside to sit at a charming bistro table overlooking the vineyards that have lovingly produced some of the finest Pinot Noir you'll ever taste."
For the same intimate experience, book a Tour & Seating Tasting with one of our knowledgeable staff. Tours & Seated Tastings are offered daily at 11 am for $45/person.
Recent Posts
October 12, 2018

June 7, 2018

October 30, 2017

October 23, 2017

September 13, 2017

April 17, 2017

July 21, 2016

June 2, 2016

May 25, 2016

May 18, 2016
Blog Categories
Blog Archives
Our Writers