May 18, 2016 | Food & Wine Pairings | Kelly Irelan
Smoked Salmon & Dill Tartine paired with our 2015 REX HILL Rosé
Spring is my favorite season of the year, and I'm going to celebrate the longer and warmer days by saying #yeswayrosé. I encourage you to drink pink this season with the my favorite REX HILL wine, the 2015 REX HILL Pinot Noir Rosé. This 100% REX HILL Estate Vineyard grown Rosé is crisp and well-balanced with notes of strawberries, figs and rose petal jam.
For effortless entertaining, pair this wine with easy to eat and finger friendly bites, like Smoked Salmon & Dill Tartine.
Smoked Salmon & Dill Tartine:
Toasted bread
Layer of fresh chèvre
Layer of smoked salmon
Sprinkle of coarse sea salt
Fresh dill & shaved radish to garnish
​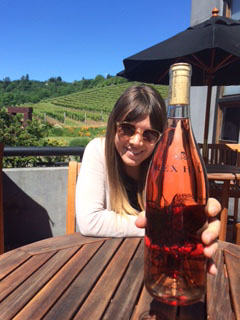 Comments
Commenting has been turned off.
Recent Posts
October 12, 2018

June 7, 2018

October 30, 2017

October 23, 2017

September 13, 2017

April 17, 2017

July 21, 2016

June 2, 2016

May 25, 2016

May 18, 2016
Blog Categories
Blog Archives
Our Writers