Late summer in Oregon is all about our abundant harvest. Blueberries, boysenberries, corn, tomatoes, chilies, squash and more give us a reprieve from the ubiquitous kale of winter (while salmon begin their fall run even in August close to the coast in Astoria) to lay a foundation for a wild array of dishes from raw to grilled. Fresh and bright is the order of the day, and the best wines reflect that. Acidity trumps tannin, being more suited for lighter, summery fare - like a squeeze of lemon on a bed of green - so our cool-climate whites and reds (Pinot Noir, Gamay, Pinot Gris, Riesling, Chardonnay) with less oak will always pair elegantly, and not overwhelm a dish's nuance.
A summer favorite at the winery, we recommend Ahi Poké paired with Chardonnay or Pinot Gris as the perfect pairing to start your end-of-summer get together.
Ahi Poké
Serving Size: 15
Prep Time: 2 hours 20 minutes minimum
Wine Pairing: 2012 REX HILL Willamette Valley Seven Soils Chardonnay
2012 REX HILL Jacob-Hart Vineyard Pinot Gris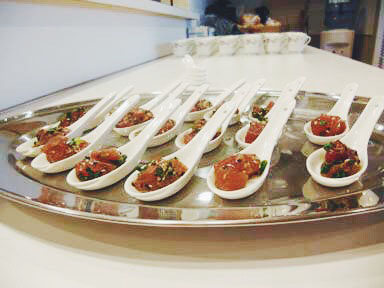 Ingredients
20 oz fresh ahi tuna
1 bunch of green onions
1 shake of fish sauce
1 1/2 tsp Thai chili paste
2 tbsp pure sesame oil
1 1/2 tbsp soy sauce
1 1/2 tbsp sesame seeds double the amount if choosing not to use black sesame seeds
1 1/2 tbsp black sesame seeds optional
1 tbsp Mongolian fire oil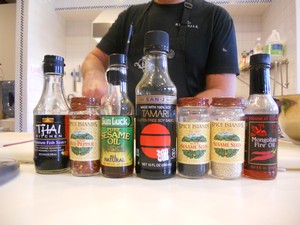 Directions
Clean off any remaining bits of skin or sinew.
Dice ahi in 1 1/2-inch chunks and place it in a medium-sized bowl.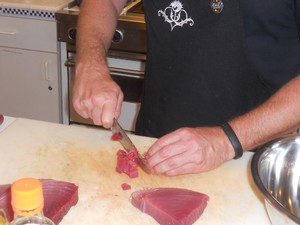 Chop up green onions and add it to the bowl.
Add fish sauce, sesame oil, soy sauce and Mongolian fire oil. Stir.
Add sesame seeds & Thai chili paste. Stir.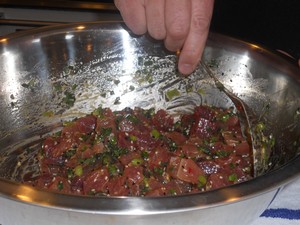 Taste. Add ingredients as necessary.
Cover & refrigerate for a minimum of 2 hours before serving.
Serve with Kim Chee cucumbers, zucchini squash spaghetti, or by itself.
After the earthquake hit the heart of Napa, KGW visited REX HILL to investigate our preparedness. Oregon is due for an enormous earthquake at an estimated 9.0 magnitude! If this were to occur, Kelly House of the Oregonian reported that it would take up to three months just to restore electricity in the Willamette Valley alone!
Despite the tremendous care we take with our wines, the safety of our employees is a top priority. We have plans in place for fires, earthquakes, and other natural disasters and have occasional, unannounced drills to measure our preparedness. REX HILL, like many Oregon wineries, was originally built around an old building designed for something else (in our case, it was a barn used to dry fruit and nuts). Realistically assessing these old, repurposed structures is very important. Even small measures could make a big difference in an emergency, for instance, adding lighted exit signs, choosing not to stack barrels too high or bolting tanks to reinforced concrete pads.

See our seven tips for emergency procedures.

1. Get all staff involved and educated. Natural disasters can happen at any time, any where.
2. Facility Evaluation: Do you have an emergency evacuation plan?
3. Invite your local Fire Department to evaluate the surroundings. They like to be involved.
4. Hold mock fire drills, evacuation drills and measure responsiveness.
5. Assess and discuss what went right with the mock drills and what needs improving.
6. Hold fire extinguisher training. Learn where your exits are. When it's dark, smokey and exits are blocked, would you know what to do?
7. Invest in people - buy a defibrillator, pay for first aid and CPR training. Time means everything in an emergency.
| | |
| --- | --- |
| Tip #2. Emergency Evacuation Plan | Tip #2. Fire Escape Ladder |
| Tip #6. Lighted Exit Signs | Tip #7. Defibrilator |
Recent Posts
October 12, 2018

June 7, 2018

October 30, 2017

October 23, 2017

September 13, 2017

April 17, 2017

July 21, 2016

June 2, 2016

May 25, 2016

May 18, 2016
Blog Categories
Blog Archives
Our Writers