The first time I tried the 2013 REX HILL Alpine Vineyard Pinot Noir, I thought it would make an excellent companion to some Italian food. The Alpine has a note of bell pepper and tomato leaf that distinguishes it from the other single-vineyard bottlings REX HILL produced in 2013. It yearned to be coupled with a rich tomato sauce.
I opted for a homemade Margherita Pizza with fresh mozzarella, Roma tomatoes and fresh-picked basil. The pairing wasn't a disappointment. While I'll sometimes take the trouble to make my own pizza dough from scratch, I'm not above buying pizza dough from the store, or in a pinch, calling for delivery.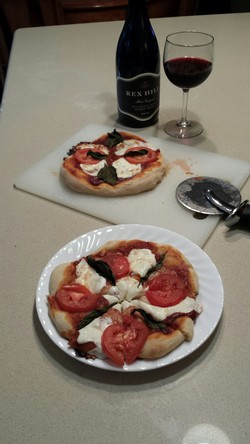 Homemade Margherita Pizza

Ingredients
500 grams all-purpose flour
1/4 teaspoon active dry yeast
1 1/2 teaspoons fine sea salt
350 grams lukewarm water
Directions
In a medium bowl combine the flour, yeast, and salt. Add the water, and mix with your hand until the water is incorporated and a shaggy dough forms. The dough will be sticky, but don't be afraid. Once the dough is incorporated, use your other hand to squeegee any excess dough off your hand and back into the bowl.


Shape the dough into a ball and transfer to a clean large bowl. Cover with plastic wrap and let rise at room temperature in a draft-free place until the dough is doubled in size. This may take up to 18 hours, depending on how warm your kitchen is. I usually plan for an overnight rise. You can make this dough 24 hours in advance by letting the dough rise in the fridge.




Transfer the dough to a floured work surface. Divide into 3 equal portions. Take one portion of dough and gather 4 corners to the center to create 4 folds. Turn seam side down and roll into an even ball. Repeat with remaining portions. Let dough rest, covered, until soft and pliable, about 1 hour.




You're now ready to shape the ball into your pizza. It's tempting to start spinning the dough overhead and tossing it into the air. Resist the temptation. In my experience, it usually ends with a face (and kitchen) full of excess flour. Instead gently pull the edges evenly, using gravity to stretch the dough out into the desired shape. Be careful not to rip the dough.




Preheat your oven to 450 degrees. Get out a 9" cast iron skillet and press the dough into the pan. Load up the dough with your favorite sauces and toppings. Brush a little olive oil around the edge of the dough. Bake your creation in the oven for 15-20 minutes, checking it occasionally for bubbles.




Remove from the oven when the crust is nicely browned and the center of the pizza is cooked.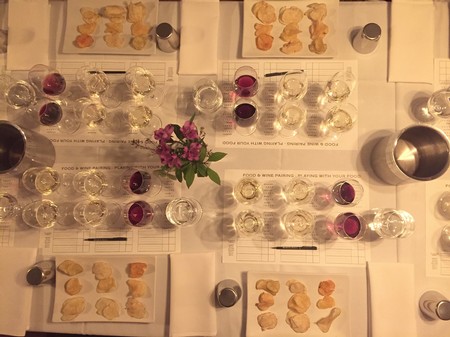 College days aside, I've not really considered a bag of potato chips to be a meal. With the diversity of flavors seen on the grocery shelf these days, however, most of the flavor components of your favorite dish are represented. Sweetness can be found in Honey Barbeque or Maple Bacon flavors, acid in Salt & Vinegar, spicy heat in Jalapeño. Of course, they all have the salt element.
It made sense, then, when I attended a wine tasting here at the winery that took this concept and applied it to wine pairing. We were provided a variety of chips and wine with which to create pairings and see how the flavors came together.
I often mention to folks in the tasting room how well our Chardonnay goes with salt in food. It was a pleasant reminder to see that the humble, plain potato chip could have quite an effect on the flavor of the Chardonnay. It also provided me inspiration for my next movie night snack.
Even more interesting was how the Barbeque flavor and the Maple Bacon both paired so well with Pinot Noir. Both flavors provided a sweetness that complimented the earthy tartness of the wine such that I plan to open a Pinot the next time I heat up the grill.
Perhaps the best part was that this exercise is easily and inexpensively replicated. If you enjoy hosting wine tasting nights with friends, pick up a few bags of chips and see what flavor combinations surprise you.

I don't have a green thumb. Far from it. I've been known to kill cactus. So you might imagine my apprehension when Karen, our Viticulturist, handed me her pruning shears as we stood in the REX HILL Vineyard this misty February morning. I didn't anticipate our morning field trip and lesson in vineyard maintenance would involve hands-on practice.
Of course, I needn't have worried. Karen showed us how she and our vineyard team prune back last year's growth leaving behind a few select canes that will become the backbone for this year's crop. The process is critical for regulating the number of shoots that will grow this coming season and for keeping excellent fruit quality. Winter pruning kicks off the year for the vineyard team and they work through the cold and the wet to ready the vines for another growing season.
Several factors are taken into consideration including cane thickness, location relative to the guidewires, and number of buds in order to decide what to cut, where to cut, and what to leave alone. Experienced workers can assess and prune a vine in a minute or two. I, on the other hand, took ten minutes just to confirm with Karen (twice) that I was cutting correctly. I didn't want to add Pinot Noir to the list of plants that perished at my hand.
Thankfully, my vine is in good health (even after I was through with it) and has three healthy canes through which it will produce fruit this year. Is it Spring yet?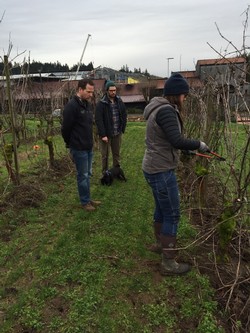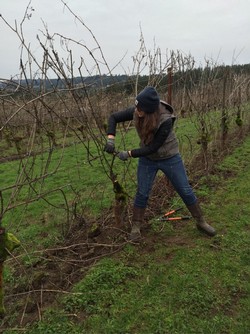 | | |
| --- | --- |
| Karen showing Tom & Jonathan how to prune a vine. | Karen pruning a vine at the REX HILL Estate Vineyard. |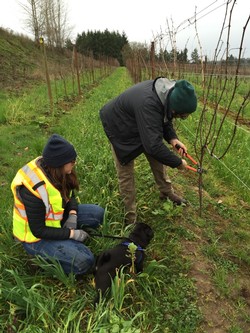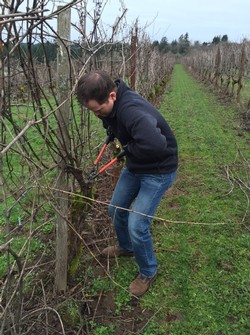 | | |
| --- | --- |
| Tom taking a turn at pruning while Karen & Batpug (Tom's dog) oversee. | Jonathan's turn to prune part of the REX HILL Estate Vineyard. |
Recent Posts
October 12, 2018

June 7, 2018

October 30, 2017

October 23, 2017

September 13, 2017

April 17, 2017

July 21, 2016

June 2, 2016

May 25, 2016

May 18, 2016
Blog Categories
Blog Archives
Our Writers