The October 24th issue of the Wine Spectator Insider announces some exciting scores for some great Oregon Pinot Noirs including 91 points for our 2010 REX HILL Jacob-Hart Pinot Noir. Jacob-Hart is REX HILL's crown jewel vineyard located in the Chehalem Mountains AVA. The grapes and ensuing wines from this unique vineyard offer a wealth of complexity derived from vines farmed to Biodynamic standards on every soil type found in the Willamette Valley.
We have finished harvesting the REX HILL Estate vineyards; the last block was harvested this past Wednesday. Although picking fruit from our vines is done, our cellar is still hard at work making the 2012 vintage wines. Don't miss out on seeing the winemaking process with advanced sommelier and chef, Mike Willison, on his Harvest Tour. The last tour is Saturday, Oct. 27th from 1:00 to 2:30 pm. $45/person, Crown Club discounts apply. Please make a reservation by calling Mike at 503.538.0666 ext. 222 or emailing him at MikeW@REXHILL.com. Limited space available.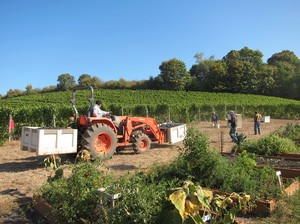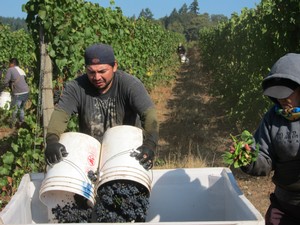 He Said...
- Mike Willison
In my former life as the wine director at a restaurant in Chicago, I remember, with no small amount of disdain, the first time a bottle of wine arrived on our doorstep bedecked in a kind of heavy armor version of something looking vaguely reminiscent of a wine bottle. The punt was almost laughably deep. The glass seemed an impenetrable barrier. The lip of the bottle was too wide to accept most standard wine bottle openers. Each bottle seemed to weigh just shy of a stone. I had tasted the wine during a salesman's recent visit, but hadn't handled it or given it much thought at the time, so its heft was more than just a bit surprising. The six-pack seemed like it should be holding a case. I checked the bottle- not once, but twice- to ensure that it was only meant to hold 750 ml. When trying to inventory the wines I was slightly annoyed to find that these huge bottles didn't fit in our rack system properly, so I had to devise an alternative storage method that included duct tape and a roll of nickels. Servers would routinely be tricked at the table when pouring wine by not only the weight of the bottle, but the color of the glass that seemed to absorb and extinguish light. Needless to say, customers were impressed with the wine and found the bottle to be majestic, kingly, and worth endless prattling and praising. The contents were but an afterthought as jealous passersby ogled and oohed with envy. I imagine the feeling was like that first ride in a limousine when you rolled down all the windows and cranked up the tunes on your way to the Sadie Hawkins dance. Are we that shallow? A recent article suggests that we are.
She Said...
- Carrie Kalscheuer
Heavier wine bottles appear more expensive because they are more expensive. But to what expense a solution?
I understand it from a psychological perspective - heavier things are less breakable and therefore (seemingly) worth more. Your linked article is correct in that it is all about the marketing. While part of me knows that this goes way beyond the scope of the wine world and into deeper socio-economic territories, I do hope that another of the wine marketing darlings will soon overtake this as more important (read: cooler, hipper, more worthy of the almighty dollar): sustainability. Heavier bottles cost more: more resources, more energy, and more money.
Of course, there is a (fairly easy?) solution. If the wine professionals and "amateur collectors" already know better, as the article you present states, then it is up to us to speak up and stop the trend. It seems to me that without an avenue with which to hawk their arm fatigue-inducing bottles, the winery in question would have to stop producing them. You spend some time above making it known that you hadn't seen the bottle prior to purchase. It makes me wonder – after the exponential bottle sales generated by passers-by gawking and admiring the heft and glory of the bottle in question, did you reorder??
Recent Posts
October 12, 2018

June 7, 2018

October 30, 2017

October 23, 2017

September 13, 2017

April 17, 2017

July 21, 2016

June 2, 2016

May 25, 2016

May 18, 2016
Blog Categories
Blog Archives
Our Writers