Are the super cyber sales getting you down? Is your iPhone blowing up with last chance savings? Pre-black Friday, Black Friday, Cyber Monday. Thank goodness for Giving Tuesday, but back again on Wednesday is Black Friday, extended for yet a few more days. Ack!
Looking back to my childhood days, we were lucky enough to be commercially traumatized only by a few sources – the local newspaper, only two TV channels and the Sears Roebuck catalog. How the world has changed, but how lucky am I to remember what the holidays really meant in our household: family, friends and Christmas vacation.
Sure there were presents, but not this organized chaos of what the millennial marketing campaign has become. The pressure to be a consumer or be consumed? Hats off to them, they're good at what they do, but I'm hitting the delete button. This only drives me closer to local stores that matter - New Seasons, Red Ridge Farms, Rain Dance Marketplace, Yamhill's Gallery and Gifts, and many more who offer thoughtful, sustainable, local, handmade and homemade goods. Do cyber sale sites promote these gifts enough? Maybe, but I stopped looking long ago.
So, if you're feeling the pain, stick your nose in a fresh Noble tree, light a votive candle and bring out the record player. I hear Bing Crosby calling for a White Christmas and Elvis having a Blue Christmas without you…
During this busy holiday season, I challenge you to ask yourself, "Do you celebrate the things you do have?"
Merry Christmas! Joyeux Noël! Frohe Weihnachten! Mele Kalikimaka! Meri Kirihimete! Nollaig Chridheil! Nizhonigo Keshmish! Sretan Božić! Sheng Dan Kuai Le (圣诞快乐) !

Two years ago, Ed King invited a few leaders from the Oregon beer, wine and spirits industries to discuss common interests. The result? A non-profit Oregon Craft Beverage Council to promote awareness of the jobs and monies the craft beverage industries contribute to Oregon's economy. Additionally, the collaborative group can now offer a unified opinion on state legislative issues of concern to our industries. Ed produced a short video that aired during the holidays on cable television in 2012 and 2013. This year an awareness campaign, "Keep it Local," launched at the end of October to remind Oregonians of their many local beverage choices for the holidays. Billboards, window stickers, bottle neckers and shelf talkers can be found throughout the state and t-shirts can be purchased in our tasting room.

Distilleries
Breweries
Wineries
Total Oregon distilleries, breweries, wineries
63
214
545
Total number of jobs created
350
6,500
13,500
Economic boost (2013)
~ 3 BILLION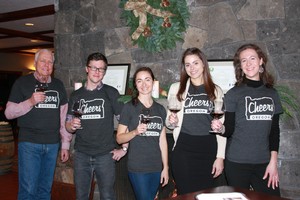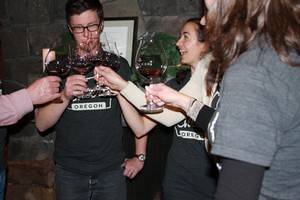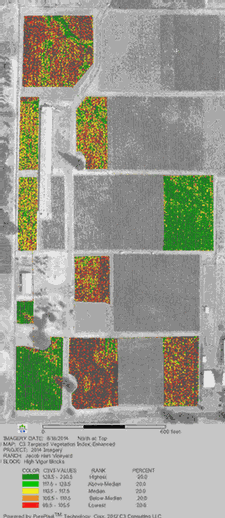 The use of military drones has led to many a heated discussion of military ethics; however, as these devices make their way into agricultural industries, the only appropriate response is, "AWESOME."
Aerial imaging has been used in vineyards for many years to give growers an overview of the general health of their vineyard. Now you may be thinking, "Can't you just walk the vineyard and see weak areas?" Yes, but consider a vineyard like Jacob-Hart, with approximately 34 vineyard acres planted to 5x8 spacing. There are about 37,000 vines and aerial imaging allows us to see them all at once. Even better, companies specializing in scientific aerial imaging offer many imaging options including thermal imaging which identifies areas under stress as hotter than areas that are healthy (see image to the left). With basic knowledge of the site, you can often locate changes in soil type, location of recently planted blocks, disease hot-spots, drainage issues, and many other aspects that influence vine performance.
As you might imagine, this is neither an inexpensive nor quick service. So how does such a company make their services more available? Drones.
VineView, a scientific aerial imaging company based out of St. Helena, California, joined forces with SkySquirrel Technologies, a Canadian unmanned aerial system company, to bring drones to the agricultural community. The name of this joint effort is Aqweo, and it made its first appearance at the Napa Valley Grapegrowers' first ever ROOTSTOCK conference on November 13th. This marks an impressive step in the precision agriculture movement and, while there are currently some FAA restrictions that will delay commercial drone use in vineyards, I cannot help but get excited about where this technology will be in the next few years.
Recent Posts
October 12, 2018

June 7, 2018

October 30, 2017

October 23, 2017

September 13, 2017

April 17, 2017

July 21, 2016

June 2, 2016

May 25, 2016

May 18, 2016
Blog Categories
Blog Archives
Our Writers