REX HILL's Jacob-Hart Vineyard was planted in 1988 during the early years of the Oregon wine industry. Situated on a southeast facing slope in the Chehalem Mountains AVA, the vineyard is certified Organic & Biodynamic and in a rare geological feat--it has every major soil type found in the Willamette Valley.
The unfortunate thing about Oregon's old plantings is that they are self rooted Vitis vinifera. Now, there is nothing wrong with self rooted vines, in fact, many winemakers are convinced they produce better fruit. The problem with self rooted vines is that they are susceptible to phylloxera: a grapevine root aphid that causes vines to die. The only solution for a vineyard that is struggling with phylloxera is to replant it on a rootstock that can tolerate this pest.
At our Jacob Hart Vineyard phylloxera was found in 1996 and ever since then it's been slowly replanted. Martin Loeza, one of our Vineyard Managers, has worked at Jacob Hart since the beginning. He was there when the vineyard was planted in 1988. He has planted every block, some of them twice. He remembers planting 5E 'the rocky block' back in 1989. 5E was the hardest to plant and the hardest to farm but has consistently grown the best fruit in the vineyard.
In 2010 we got less than a ton per acre from this block and it was time to talk about replanting. I was discussing with Martin the replanting program, "I think 5E is going to be next." Martin didn't like that idea, you could see the pain on his face just thinking about planting it again, he replied, "Oh no; maybe one more year."
We wanted to retain the heritage of the block and use the clonal material (most likely Pommard) that performed so well in that site. Before we pulled out the original Pinot Noir vines we took thousands of cuttings to be grafted onto a phylloxera tolerant rootstock called 3309. When it came to planting, we couldn't use the typical augers because they only work in soil. We had to dig the holes by hand with shovels, picks, hammers and metal bars. Putting in the line posts was worse.
Once the vines and posts were in it was up to Mother Nature to do the rest. There were nice bursts of sunshine and warmth in early spring to break the vines out of dormancy. We also had a couple of weeks of rain in early June to really water the vines in and keep them growing longer into summer. The summer however was extremely dry, with one of the longest dry spells in over 50 years. Thankfully we put in a temporary drip irrigation system to keep the soil around the vines from completely drying out and the vines from shutting down. We achieved great uniform growth across the block despite the rocky conditions and dry summer. All the credit goes to our great vineyard crew and the nursery for supplying us great vines. I'm looking forward to seeing some great growth next year!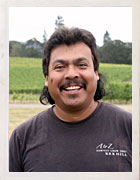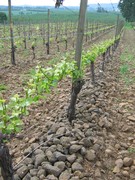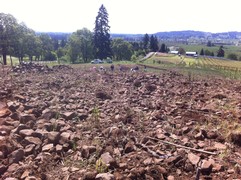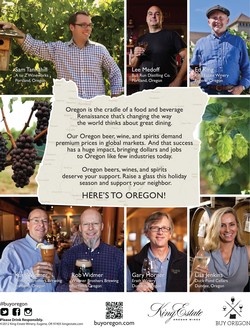 The Buy Oregon campaign launched November 15th, and we are happy to be featured in it. Spot Sam Tannahill, our Founder & Director of Viticulture and Winemaking, featured in the top left corner. Some REX HILL faces can also be spotted in the following video:
Recent Posts
October 12, 2018

June 7, 2018

October 30, 2017

October 23, 2017

September 13, 2017

April 17, 2017

July 21, 2016

June 2, 2016

May 25, 2016

May 18, 2016
Blog Categories
Blog Archives
Our Writers