"A box without hinges, key, or lid,
yet golden treasure inside is hid."
Gollum, The Hobbit by J. R. R. Tolkien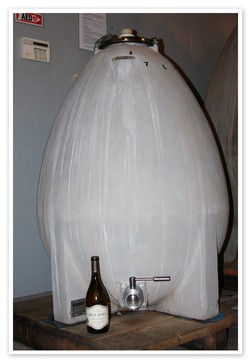 Bilbo's answer to the riddle posed by Gollum (remember they were playing for the most precious thing Bilbo possesses – not the ring of power, but his life) is as we all know now, an egg. The humble egg has long been a powerful symbol in history, mythology, philosophy (which came first?) and lore. Why and how has it found its way into our cellar in the guise of a fermentation vessel. The how is easy. Our eggs came to us from a company in France, Nomblot.
The Nomblot Company, managed by Marc Nomblot, has been manufacturing concrete wine tanks in Burgundy since 1922. In 2001, Michel Chapoutier from Maison M. Chapoutier, a 200-year-old winery in France's Rhone Valley, asked Marc to create an egg shaped concrete wine fermenter. After the first tank was created and installed at Masion M. Chapoutier, word quickly spread about this unique shape. In 2006, A to Z Wineworks, with the help of Jerome Aubin from Artisan Barrels, became the first winery in Oregon to import and use a Nomblot Egg tank. Since that time there has been a minor explosion of egg shaped tanks in Oregon, California and Washington wineries. In the ultimate "tribute," the concrete egg tank shape is now being made by companies in the United States.
We choose to use Nomblot tanks because no chemical additives are used in the construction of the tanks – only sand, stone and water. Also, Nomblot has not only been making concrete wine tanks for over 80 years, but employs a unique process that creates a tank of exceptionally high quality. As many things old that are new again, concrete was used for many years in building wine fermentation tanks. Over the past 30 years concrete fell out of favor as stainless steel replaced it as the material of choice for tanks. Winemakers now are relearning that concrete is an ideal material to use for fermentation and storage as it is porous (like barrels), which allows the wine to slowly "breathe" without giving the wine oak flavors. Concrete is also a fantastic insulator which allows for slow, cool fermentations and ideal wine storage temperature that helps preserve aromas and mouthfeel. Lastly, concrete, like wood, is a more natural, less processed, and less sterile material than stainless steel which, like Biodynamic practices, brings the wine closer to its natural environment in which the grapes were grown.


At A to Z Wineworks, we take sustainability seriously. So seriously in fact that, for us, sustainability not only means how we farm our vineyards and recycle at the winery but, among other things, how we treat our employees, how we look at our chemical, water and carbon foot prints and how we relate to our community. In short, we look at the whole of our business and ask what can we do not only to create a profitable business and a great place to work, but how do decisions we make affect the vitality of our triple bottom line: our social, environmental and financial performance measures.
For years we had certified parts of our business with various certification systems and agencies (LIVE, organic, Demeter, OCSW…etcetera). In researching B Corp certification, we realized that of all the certification systems we work with, B Corp best reflects how we manage our company, our company culture and our values. Furthermore, we discovered that some B Corp certified companies were among those that we admired not only for their financial success, but for the fully sustainable way they were run, even after a sale.
It became only natural to seek B Corp certification. As we progressed through the certification process, it became quickly evident that B Corp and A to Z Wineworks were a perfect fit. We are very happy to be part of the family of B Corps certified companies. It feels great to be recognized for the work we have done to retain our values as we experienced exponential growth.
Recent Posts
October 12, 2018

June 7, 2018

October 30, 2017

October 23, 2017

September 13, 2017

April 17, 2017

July 21, 2016

June 2, 2016

May 25, 2016

May 18, 2016
Blog Categories
Blog Archives
Our Writers