During 2014, I was given the opportunity to join the Finance department at A to Z Wineworks. There are many things that I enjoy about working at the winery including the people, the enthusiasm and energy, and, of course, the canines. Being an outdoor enthusiast, however, the thing I enjoy most about the winery is the significant amount of wildlife present on the grounds. The presence of these animals came as a bit of a surprise to me (although it really shouldn't have)!
During my first three months here I have had many interesting wildlife sightings:
A Yearling Male Deer: I remember one morning we had a yearling male deer meet us in the parking lot. He did not seem afraid and casually strolled into the vineyard and down a row of vines.
Barred Owls & a Great Horned Owl: Another evening, I was leaving the winery and got to listen to the hooting of, not one, but two owls sitting in the pine trees near the parking lot. Then, they flew away, and I recognized them as Barred Owls. On other occasions, a Great Horned Owl has been spotted.
Hummingbirds: They seem to be everywhere as they enjoy the lavender and other plants available for them to feed upon!
Red Tailed Hawks: There are almost always Red Tailed Hawks (and other birds of prey, including an Osprey!) present overhead, calling to each other and playing aerial tag.
Robins & Starlings: Flocks and flocks come to the vineyard in the winter and help clean up the left over fruit.
Rough Skinned Newts: At the ground level, I have found these interesting amphibians.
Coyotes: My highlight – listening to a group of coyotes howling and calling to each other one afternoon in the vineyard. It is one of the classic sounds in nature and always enjoyable for me to listen to.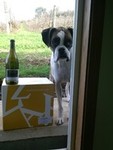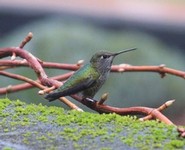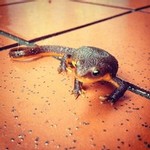 I look forward to many more wildlife sightings in the Spring and the coming Summer. When you are here, I suggest taking a moment to look around and listen for the presence of wildlife, especially near the vineyard in the morning and evening hours. Chances are there may be eyes looking back at you!
Recent Posts
October 12, 2018

June 7, 2018

October 30, 2017

October 23, 2017

September 13, 2017

April 17, 2017

July 21, 2016

June 2, 2016

May 25, 2016

May 18, 2016
Blog Categories
Blog Archives
Our Writers