In the 70's, Harvard Business School professor, William E. Fruhan, advanced the postulate that the single, overriding obligation of a business is maximization of shareholder wealth. Under this theory, the corporation is not responsible for social or environmental costs beyond those incurred as a result of unavoidable regulation or those that can somehow be justified as increasing the return on capital. As the corporation is supposed to be socially agnostic, discretionary investments are choices left to be made by shareholders with their returns.
Return on investment (ROI) has become the underlying measure of shareholder wealth creation. Over the past three decades, this interpretation of the raison d'être of business has narrowed to where the modern firm is seen as little more than an income statement and balance sheet. Indeed, very little American wealth creation in 2011 derives from making things but rather from the trading of abstract instruments. The banking industry, which for hundreds of years was the primary source of capital for business creation, now derives just 8% of its profit from primary lending.
At A to Z and REX HILL, while we maintain financial reporting systems that are state-of-the-art in the wine industry, we have never employed an ROI analysis. Similarly, while we consider the measures of pH, TA and Brix in winemaking, we do not make wine by the numbers. For us, ROI is more aptly to be described as Return on Ideas.
Few ideas are bound to alter the course of our business; in a mature industry, we would be fortunate if one paradigm-changing idea emerged every three years. Most ideas will languish, some will fail—we have endured our share of screw-ups over the years. However, if we are not willing, as we are, to accept if not encourage failure, we will have no chance at that once a thousand day idea. And, in the end, our return on investment exceeds the industry.
The horizon of a thousand days correctly implies that we are far more concerned with the strategic success of the business than we are with exploiting short-term opportunities. Despite the volatility of grape prices, we pursue long-term grower relationships that are stable for all parties. One of our sales directors recently turned down a million dollar order with a big box retailer because it wasn't the right decision for the brand. Importantly, he felt empowered to do so.
But, perhaps most important, we believe that a culture that embraces failure is one that places creativity at the forefront of its values and, correspondingly, is one where people come to work every morning knowing that they don't simply perform a repetitive function but are encouraged to come up with the thousand day idea and, if it doesn't work, the worst that can happen is a good-natured roasting at the monthly staff meeting.

July first rolled around and so has summer! The temperatures have been consistently in the 80's for the last 6 days bringing flowering with it!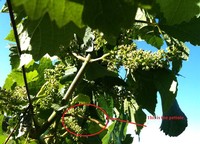 Things to think about when the vine is blooming.
It's a great time for assessing the vines nutrient status. We take plant tissue and send it to a A and L laboratory to analyze the concentration of different nutrients. The tissue we use is the petiole ( connects the leaf to the shoot). For standardizing the procedure we take the petiole located opposite the basal cluster. Tissue analysis at this time (60-70% cap fall) is great for giving you the vines micronutrient status. Whereas sampling at veraison is best for understanding your macro nutrient status.
Micronutrients:
Iron (Fe), Zinc (Zn), Copper (Cu), Manganese (Mn), Molybdenum (Mo), Boron (B), Aluminium (Al), Sodium (Na).
Common Micronutrient deficiencies in Oregon are Boron and Zinc. If there is a deficiency in a micronutrient it will be applied to the canopy in what's called a "foliar application".
Macronutrients:
Nitrogen (N), Potassium (K), Phosphorous (P), Sulfur (S), Calcium (Ca), Magnesium (Mg).
Macro-nutrients problems are best fixed through ground applications.
Other things to think about.
Botrytis! When the flower cap falls off it leaves a scar around the base of the ovary. If this scar isn't protected there is potential that botrytis will infect the tissue. It will sit there until conditions are right for growth. This is called a latent infection.
Botrytis will also colonize any dead flowering tissue that is left in the cluster. Again it will sit there waiting for conditions to become right for further colonization/infvection. What can we do about this? We have to spray the flowers once 85% of the caps have fallen off.
This year in our organic sites we are trying two products Actinovate and Whey as a combination. Actinovate is a bacteria (Streptomyces) antagonist of botrytis and whey acts as a food source for the bacteria (Streptomyces). Trials performed in growers vineyards last year with the USDA showed that this was as effective as some of the synthetic products.
http://www.gwrdc.com.au/webdata/resources/files/BotrytisFactSheet.pdf
Time to harvest.
In Oregon it usually takes 100-110 days from bloom to harvest. If we call bloom today at the REX HILL home vineyard we will be harvesting some time between the 14th and 24th of October.
Who wants to guess the harvest date?
Recent Posts
October 12, 2018

June 7, 2018

October 30, 2017

October 23, 2017

September 13, 2017

April 17, 2017

July 21, 2016

June 2, 2016

May 25, 2016

May 18, 2016
Blog Categories
Blog Archives
Our Writers