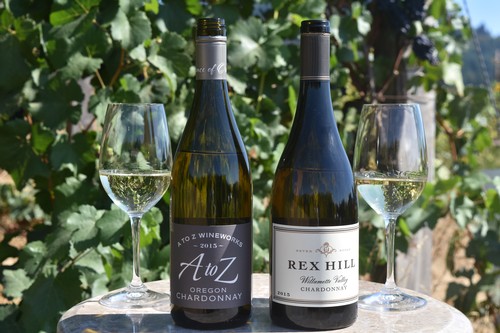 Chardonnay is one of the most widely-planted grapes in the world. Commonly known as "the winemaker's grape" due to its ability to handle many different treatments in cellar, Chardonnay styles can range from fresh, vibrant, fruit-driven wines with bracing acidity and restrained alcohols in cooler regions to riper, richer styles showing tropical flavors, low acidity and high alcohols in warmer to hotter regions. Although Chardonnay was originally from the Burgundy region in France, for years Chardonnay plantings in the U.S. were concentrated in California, ushering in a fashion of powerful Chardonnays with heavy oak, toast, sugars and high alcohols.
With a naturally low flavor profile, Chardonnay can act as a tabula rasa expressing the unique properties of the vineyard and region in which it is grown. Pinot Noir, with fewer anthocyanins than other red grapes, can serve a similar function. For this reason, Pinot Noir and Chardonnay have been planted next to one another in cool climates for centuries. It was natural that the Oregon wine pioneers planted Chardonnay alongside Pinot Noir as far back as the late 1960s. At that time, the available clonal material (cuttings that have adapted or been propagated to show different traits in different climates and soils) was almost exclusively the heat-treated, heat-adapted clone developed for late ripening in California. This warm climate clone resulted in a majority of opulent wines with heavy oak flavors and high alcohol and brought disappointing results in cool climate Oregon, where optimal ripening was only happening in the warmest of years.
Working with Oregon State University in the late 1980s and early 1990s, Oregon vintners brought into the country new clones of Chardonnay and Pinot Noir from Burgundy. These so-called "Dijon Clones" were chosen for their ability to ripen in a cooler region, showcasing a delicate freshness and bright acidity. With this new range of clones, Oregon winemakers could more accurately choose the right vines for the right site (with some vineyards planted to "field blends" of many clones) giving winemakers different flavors and ripeness levels to work with at harvest.
As Americans began a love affair with fresh food, overly-manipulated, powerful Chardonnays were found too dominant compared to those more able to companionably accompany food. These good partners, vibrant and exciting wines highlighting the natural expression of the grape and growing site, most often came from cool climate regions including Oregon's lively expressions of Chardonnay.
Sitting between 42 and 47 degrees latitude, Oregon's growing regions are perfectly suited for Pinot Noir and Chardonnay ripening. Long warm days followed by cool nights retain the vibrant acidity that makes Oregon Chardonnay a perfect food wine with a distinct ability to age in cellar. Today, Oregon Chardonnay is on the rise, with recent plantings growing by over 13% in the last two years. Styles can range from bright, linear, stainless-steel fermented wines to mineral-driven, neutral oak styles that show a great deal of depth and complexity. Both are ideal companions for food.
Two to try:
A to Z Wineworks Chardonnay
Fresh and lively, America's best-selling unoaked Oregon Chardonnay is full of citrus, quince and melon flavors offering all of the delights of food-friendly, cool climate whites. A to Z Wineworks Chardonnay shows all the intensity and depth of the vintage yet retains the purity and freshness that Oregon Chardonnay is known for.
REX HILL Willamette Valley "Seven Soils" Chardonnay
Just a touch of oak graces this Willamette Valley Chardonnay, which is hand-picked and sorted. Rich and fruit-driven with a lovely acidity, this elegant expression of Chardonnay is built to please for many years.

I think just about everything pairs with Pinot Noir, with one awful exception. Pinot is light enough not to overpower food, but flavorful enough to add depth and nuance. Perhaps not every dish can have the impact that the perfect Pinot Noir pairing can have (lamb chops, Chantrelle mushrooms, pan-fried salmon - wow!), but the overwhelming result is at least pleasant, easy, and doesn't leave me with a massive headache the next morning. (The awful exception: frosted animal cookies. Don't ever try this. Ever.)
Transcendent pairings don't come around often. When this rare and wonderful event happens, it's important to give pause and relish the moment, then tell everyone you know so that they can share in the joy. And if you find something truly bizarre, unexpected and inspirational, well, you write a blog post.

My top 5 surprisingly transcendent pairings:
Mezcal and Chocolate. I have a strong affinity for both of these things. It was only a matter of time before I made the happy discovery that they are wildly perfect together.

Aussie Shiraz and Vanilla Bean Ice Cream. Trust me on this. An old friend stumbled upon this gem and we have since tested the pairing on multiple occasions. It works. I'm not sure why, but it works.

Chablis and Kettle Chips. Yes, everyone knows about all things fried with Champagne, but to me this is the superior pairing. Chablis' fresh acid and high minerality, yet round, rich palate is the perfect accompaniement to my ultimate guilty pleasure.

Oregon Pinot Gris and Salsa. A great alternative to lager for Mexican feasts, especially if gluten is not your friend.

Australian Stickies and Gazpacho Soup. Stickies are Aussie-speak for dessert wines. Paired with the high acid of hte gazpacho, this is an unexpected treat.

This past summer, we hosted several Linfield College students enrolled in a year-long program called the Oregon Wine Industry Experience. After touring the facility, the students were introduced to our wines and our people. As the last stop of their two-month introduction to the industry, filled with many winery and vineyard visits, tastings and tours, we had our work cut out for us. What hadn't they already learned?
As the largest winery in Oregon, we need a large staff. More staff routinely leads to more segregated teams, a problem I hear about from many of my colleagues in the industry. So, what makes us different? Here at A to Z, we know that to be successful, we need to work together; we need to form bonds and relationships between teams, and to keep those connections healthy and vibrant in order to keep our winery healthy and vibrant. It is this collaboration that stands out to me when talking about our individual responsibilities with the Linfield students – all of us know what each other does and we interact multiples times a day, necessarily.
It's always fun to show off our winery! It is a continually growing facility that has a deep history. But hosting the Linfield students reminds me that at the end of a rich summer program, when they've seen a great many facilities, there will still be something they haven't heard – how to run a successful winery while keeping a staff of 50 engaged, happy, productive and together.
Recent Posts
October 12, 2018

June 7, 2018

October 30, 2017

October 23, 2017

September 13, 2017

April 17, 2017

July 21, 2016

June 2, 2016

May 25, 2016

May 18, 2016
Blog Categories
Blog Archives
Our Writers