I consider myself a foodie, but I am not a cook. My husband is the chef in our house. I am an amazing sous chef, salad maker, and dish cleaner.
However, when I do get inspired to cook, I am a total recipe-follower, and I look to my Food Network Hero for inspiration: Barefoot Contessa. I love her recipes, because they are simple, elegant, and French-inspired.
One of my favorite Barefoot Contessa recipes is Lemon Chicken Breasts, and it pairs perfectly with one of my favorite wines, 2013 REX HILL Willamette Valley Seven Soils Chardonnay. The zesty lemon and herbs on the chicken marry beautifully with the citrus and tropical notes of the wine. Also, the subtle creaminess of the Chardonnay adds a depth to the meal that leaves your palate singing for more! Bon appetite!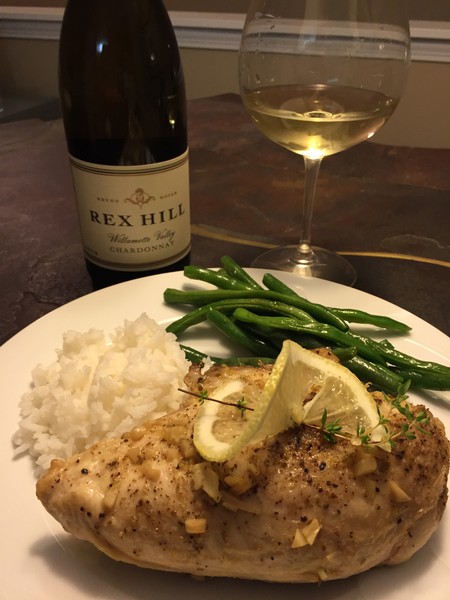 Lemon Chicken Breasts from Barefoot Contessa's "How Easy Is That?" Cookbook:
Ingredients:
1/4 cup good olive oil

3 tablespoons minced garlic (9 cloves)
1/3 cup dry white wine (I of course used 2013 REX HILL Willamette Valley Seven Soils Chardonnay)
1 tablespoon grated lemon zest (2 lemons)
2 tablespoons freshly squeezed lemon juice
1 1/2 teaspoons dried oregano
1 teaspoon minced fresh thyme leaves
Kosher salt & freshly ground black pepper
4 boneless chicken breasts, skin on (6-8 ounces each) - I typically use bone-in & skin-on breasts for more flavor.
1 lemon
Directions:
Preheat oven to 400 degrees.
Warm the olive oil in a small saucepan over medium-low heat, add the garlic, and cook for just 1 minute but don't allow the garlic to turn brown. Off the heat, add the white wine, lemon zest, lemon juice, oregano, thyme, and 1 teaspoon salt and pour into a 9x12-inch baking dish.
Pat the chicken breasts dry and place skin side up over the sauce. Brush the chicken breasts with olive oil and sprinkle them liberally with salt and pepper. Cut the lemon into 8 wedges and tuck it among the pieces of chicken.
Bake for 30-40 minutes, depending on the size of the chicken breasts, until the chicken is done and the skin is lightly browned. If the chicken isn't browned enough, put it under the broiler for 2 minutes. Cover the pan tightly with aluminum foil and allow to rest for 10 minutes. Sprinkle with salt and serve hot with the pan juices.
Note: Don't forget to make plenty of rice, because you'll want to soak up all of the delicious lemony goodness of the pan juices. Yum!

I, on the other hand, have been known to be a chip fiend. There is never a shortage of chips (Kettle) or crackers in my pantry! So, you can imagine my delight when I was asked to be part of a Kettle Chip & Wine Pairing tasting. However, I tend to be a purist when it comes to chips – only straight-up original Kettle Chips for this chip lover. I was certainly skeptical at the variety of crazy flavors beautifully arranged on the platter before me. Three crunches in, I was pleasantly surprised at how some of the most unique flavors of chips seemed to bring out the best in the wines and vice versa. I was particularly shocked at how well the Salt & Vinegar chip paired with the A to Z Pinot Gris. Who knew?! That's what I love about food and wine… Some of the most unusual combinations sometimes make the most beautiful, unexpected pairings. So, keep playing with your food!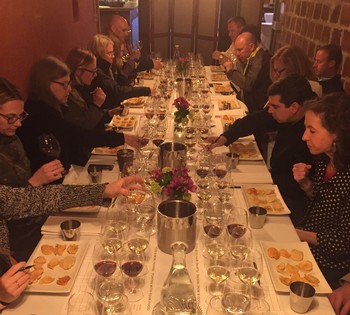 Recent Posts
October 12, 2018

June 7, 2018

October 30, 2017

October 23, 2017

September 13, 2017

April 17, 2017

July 21, 2016

June 2, 2016

May 25, 2016

May 18, 2016
Blog Categories
Blog Archives
Our Writers