Australia Day marks the arrival of Britain's First Fleet to Australia in 1788. Follow this 14-step guide to celebrate Australia Day like an Aussie:
Sleep in.
Put the beer on ice.


Go for a swim.
Turn on the radio to Triple J. Listen to the Hottest 100.
Crack a cold beer.
Kick the footie around.



Turn on the BBQ.
Crack a cold beer.
Men stand around the BBQ and cook sausages.
Get sunburnt.
Crack a cold beer.
Eat burnt sausages.
Play backyard cricket.



Go to bed early because you have work the next day..........
Cheers mate!

"A box without hinges, key, or lid,
yet golden treasure inside is hid."
Gollum, The Hobbit by J. R. R. Tolkien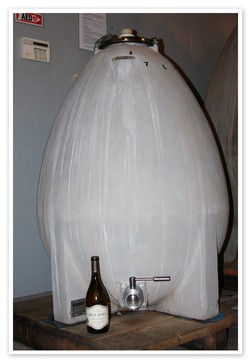 Bilbo's answer to the riddle posed by Gollum (remember they were playing for the most precious thing Bilbo possesses – not the ring of power, but his life) is as we all know now, an egg. The humble egg has long been a powerful symbol in history, mythology, philosophy (which came first?) and lore. Why and how has it found its way into our cellar in the guise of a fermentation vessel. The how is easy. Our eggs came to us from a company in France, Nomblot.
The Nomblot Company, managed by Marc Nomblot, has been manufacturing concrete wine tanks in Burgundy since 1922. In 2001, Michel Chapoutier from Maison M. Chapoutier, a 200-year-old winery in France's Rhone Valley, asked Marc to create an egg shaped concrete wine fermenter. After the first tank was created and installed at Masion M. Chapoutier, word quickly spread about this unique shape. In 2006, A to Z Wineworks, with the help of Jerome Aubin from Artisan Barrels, became the first winery in Oregon to import and use a Nomblot Egg tank. Since that time there has been a minor explosion of egg shaped tanks in Oregon, California and Washington wineries. In the ultimate "tribute," the concrete egg tank shape is now being made by companies in the United States.
We choose to use Nomblot tanks because no chemical additives are used in the construction of the tanks – only sand, stone and water. Also, Nomblot has not only been making concrete wine tanks for over 80 years, but employs a unique process that creates a tank of exceptionally high quality. As many things old that are new again, concrete was used for many years in building wine fermentation tanks. Over the past 30 years concrete fell out of favor as stainless steel replaced it as the material of choice for tanks. Winemakers now are relearning that concrete is an ideal material to use for fermentation and storage as it is porous (like barrels), which allows the wine to slowly "breathe" without giving the wine oak flavors. Concrete is also a fantastic insulator which allows for slow, cool fermentations and ideal wine storage temperature that helps preserve aromas and mouthfeel. Lastly, concrete, like wood, is a more natural, less processed, and less sterile material than stainless steel which, like Biodynamic practices, brings the wine closer to its natural environment in which the grapes were grown.

After working in the wine industry in Napa Valley for 10 years, I decided to pack up my things and move to the wine industry in the Willamette Valley.
Why Oregon?
My husband and I first visited Portland three years ago on vacation, and we fell in love with the city. The people here are much more relaxed; the city is clean and has such an urban, artsy feel to it; the food is amazing; and there are so many unique shops and a sense of creativity all around. Don't get me wrong, Napa is beautiful with amazing food, a central location, and a small tight-knit community. It was just time for a change after living there for almost all of my life.
Napa vs. Willamette Valley wine….
This is a tough and sensitive subject! When I first started working here, my co-worker joked about Napa being good for auto parts. I sensed a little competition, similar to Napa vs. Sonoma. Napa and the Willamette Valley are two very different wine regions. One reason is the weather. Napa has a very hot and dry climate with very cold winters, ideal for Bordeaux varieties. The Willamette Valley is much cooler, making the weather more ideal for Burgundy varieties.
I do have to say that the Pinot Noirs here are delicious! They are much lighter than what I'm used to, but balanced and structured. I look forward to learning more about Oregon Pinot Noir and drinking more of it too!
Recent Posts
October 12, 2018

June 7, 2018

October 30, 2017

October 23, 2017

September 13, 2017

April 17, 2017

July 21, 2016

June 2, 2016

May 25, 2016

May 18, 2016
Blog Categories
Blog Archives
Our Writers