November 15, 2012 | News | REX HILL
Here's to Oregon!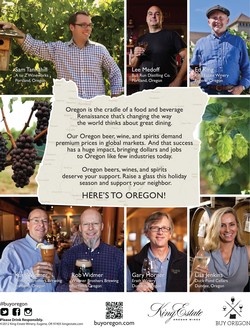 The Buy Oregon campaign launched November 15th, and we are happy to be featured in it. Spot Sam Tannahill, our Founder & Director of Viticulture and Winemaking, featured in the top left corner. Some REX HILL faces can also be spotted in the following video:
Comments
Commenting has been turned off.
Recent Posts
October 12, 2018

June 7, 2018

October 30, 2017

October 23, 2017

September 13, 2017

April 17, 2017

July 21, 2016

June 2, 2016

May 25, 2016

May 18, 2016
Blog Categories
Blog Archives
Our Writers