In celebration of the UN naming 2015 the International Year of Soils (IYS), I think it is only fair to write about soils; however, there is only one way to do it justice...a SOIL SERIES! So, we will be bringing a series of soil related blog postings that will hopefully get everyone just as excited as we are about soils.
To kick off the series, I'll share with you an epiphany I had while reminiscing about the soil classes I took during my undergrad: When describing a wine, many of the terms used to identify specific qualitites of that wine are shared by soil scientists when describing soils. Our Tasting Room Manager, my fellow Karen at REX HILL, and I have put together a table of descriptors for your enjoyment.
| | | |
| --- | --- | --- |
| DESCRIPTOR | SOIL | WINE |
| Aroma | A healthy soil will have a "good" aroma - if you're getting off aromas from a soil, that's a clue that there's something going on with it. | Also known as 'the nose' of a wine, aroma is what the wines smell like, from the "good" aromas of fruit to floral to earthy components. If the wine has an off aroma, it could be an indication of a wine fault. |
| Structure | Structure is simply the arrangement of soil aggregates. Soil structure influences water, air and nutrient relations in the soil. Promoting good soil structure is crucial to keeping a vineyard healthy. | Structure refers to the relationship and, ultimately, the balance of different components in wine such as acid, tannin, alcohol, body, texture, etc. A good structured wine has a greater potential to age longer. |
| Texture | Texture refers to the percent of clay, silt and sand particles in the soil. Soil scientists are often able to tell a lot about a soil based on how it feels (i.e. a soil with a higher percent of sand may feel gritty). | Texture is a component of structure, and is the general sensation or overall mouthfeel of the wine that incorporates the weight, body, tannins, etc. (i.e. a wine with more tannin may feel chalky or grippy on your palate). |
| Acidity | Soil acidity is important to take into consideration when planting any crop, and can be altered by many farming practices. Blueberries, for example, thrive in acidic soils (a pH of 4.5 - 5ish), whereas wine grapes need a slightly higher pH soil (5.5 - 6.5ish). The soil pH affects the availability of nutrients in the soil. If plants that are not suited to a soil's specific pH are planted, nutrient deficiencies and/or toxicities will become apparent, and the plan will not thrive. | Acidity is another part of the structure of wine, and it refers to the amount of perceived acid in the wine. Without acidity, wines taste flat, soft or flabby, but with too much acidity, wines can taste tart, sharp or sour. |
| Balance | A loaded term when it comes to soils - this is a drastic over-simplification, but a healthy balanced soil works like a well-oiled machine. In agriculture, we have to be very aware of the consequences management hsa on the soil's natural systems lest we throw a balanced soil system out of balance. | A loaded term when it come sto wines as well - on a broad scale, balance refers to the overall perception of the structure at the end of each taste. It is the relationship equilibrium of all the components in wine (acid, tannin, alcohol, body, texture, etc.). When no one component sticks out more than another, the wine has balance, a sense of elegance and completeness, which is a hallmark of great wines. |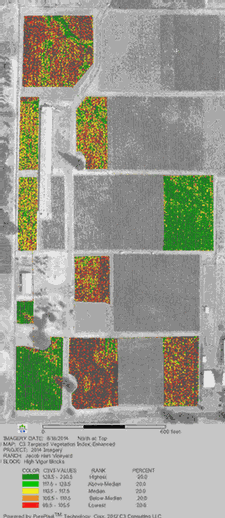 The use of military drones has led to many a heated discussion of military ethics; however, as these devices make their way into agricultural industries, the only appropriate response is, "AWESOME."
Aerial imaging has been used in vineyards for many years to give growers an overview of the general health of their vineyard. Now you may be thinking, "Can't you just walk the vineyard and see weak areas?" Yes, but consider a vineyard like Jacob-Hart, with approximately 34 vineyard acres planted to 5x8 spacing. There are about 37,000 vines and aerial imaging allows us to see them all at once. Even better, companies specializing in scientific aerial imaging offer many imaging options including thermal imaging which identifies areas under stress as hotter than areas that are healthy (see image to the left). With basic knowledge of the site, you can often locate changes in soil type, location of recently planted blocks, disease hot-spots, drainage issues, and many other aspects that influence vine performance.
As you might imagine, this is neither an inexpensive nor quick service. So how does such a company make their services more available? Drones.
VineView, a scientific aerial imaging company based out of St. Helena, California, joined forces with SkySquirrel Technologies, a Canadian unmanned aerial system company, to bring drones to the agricultural community. The name of this joint effort is Aqweo, and it made its first appearance at the Napa Valley Grapegrowers' first ever ROOTSTOCK conference on November 13th. This marks an impressive step in the precision agriculture movement and, while there are currently some FAA restrictions that will delay commercial drone use in vineyards, I cannot help but get excited about where this technology will be in the next few years.
Recent Posts
October 12, 2018

June 7, 2018

October 30, 2017

October 23, 2017

September 13, 2017

April 17, 2017

July 21, 2016

June 2, 2016

May 25, 2016

May 18, 2016
Blog Categories
Blog Archives
Our Writers