While attending the Oregon Wine Symposium in Portland last week, A to Z, REX HILL and a few other wineries were able to present some of their research and development projects. I had the opportunity to present a project I supervised last harvest at REX HILL.
There are two distinct phases to make wine from Pinot Noir once the grapes have been harvested and put in a vessel:
The Cold Soak Phase which is when the berries or clusters are left soaking in their juice at cold temperature. This is when we will typically extract the anthocyanins, which are pigments responsible for the color of the wine.
The Alcoholic Fermentation Phase happens at a warmer temperature, and is when you extract most of the tannins responsible for the structure of the wine.
We designed our trial to be able to quantify how much of the anthocyanins and tannins would be extracted during the cold soak period. After leaving the must for two weeks at 40F we ran our first batch of analyses. We then pulled a barrel worth of juice and fermented it in order to see if the alcoholic fermentation would, in any way, affect these numbers. We were hoping to create a wine that has a dark color but a lighter body. The must left in the tank was fermented traditionally with native yeast and got a couple of daily pump overs or punch downs and would serve as a reference point.
We got some good results from this trial and we thought it would be great to publically share what we have learned. So here I am, presenting the trial, answering questions and explaining why we did what we did to a public who was very appreciative of the conversation. They had the opportunity to taste both wines: the wine made from juice fermented in the barrel and the wine made traditionally. The wine fermented in barrel has a good color, is supple on the palate and exhibits pleasant and rich aromatics; it has been often compared to a wine from Beaujolais. On the other hand, the wine fermented in tank shows concentration, a dark color, complexity and great structure. People had, of course, different opinions on which wine was their favorite but the common factor was that they were all excited by the fact that we were trying to push the envelope of understanding how to make better wines.
From a personal point of view, it was great to interact with some of my fellow colleagues on a subject we are all passionate about. It felt good to be an active member of the Oregon winemaking community and to represent A to Z and REX HILL at a public event.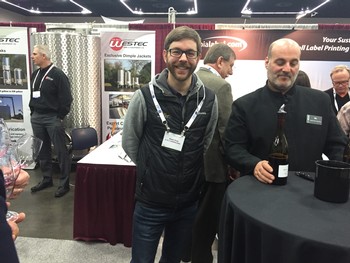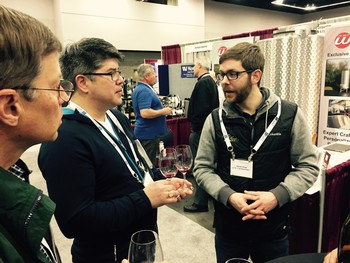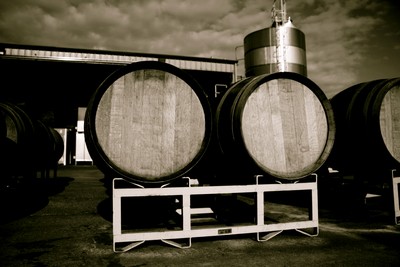 Besides witnessing the pure magic of yeasts and different micro-organisms transforming grapes into a wine that can age for decades, what fascinates me the most about my job is my work with barrels. They are rough and simple in their conception yet extremely sophisticated at the same time. Manufacturing a barrel is very artisanal and cannot be mass produced with machines. Only a human being, using all his skills and all his senses, can bend the staves, toast and put together the different pieces to craft a barrel. No matter how consistent a barrel producer is trying to be, every single barrel will be different from one another.
Barrels, as we know them today, most likely originated with the Celtics more than 2,000 years ago. Gauls and Romans developed barrels as a reliable and efficient way to ship wine across Europe. Oak became the main wood used to make barrels. It is a soft type of wood and therefore easier to bend. It was also abundant in the forests of Europe and its tight grain offered a waterproof storage solution. Overtime, people dealing with wines stored in barrels discovered the positive effects that oak had on the wine and thus began the practice of aging wine in a barrel.
Now days, barrels found in a winery are mainly made in France from oak trees grown there. Barrels made in the USA and Hungary, for example, are available as well. While visiting a winery in Argentina, I even came across a couple of barrels made in China.
When a winemaker has to purchase a barrel, here are the criteria he has to choose from:
Cooper
Country of origin
Type of wood
Shape and volume (Burgundy 228 liters, Bordeaux 225 liters or Cognac 300 liters)
Forest (Allier, Vosges and Tronçais are the main growing regions)
Level of toast for the inside of the staves and the heads
Number of years the oak was left to dry before being used
All of these will have a profound impact on the wine produced.
So every time I roll an empty barrel, place it neatly on a stillage and fill it with wine it reminds me that, even if we have modern tools, winemaking is still very much craftsmanship.
Recent Posts
October 12, 2018

June 7, 2018

October 30, 2017

October 23, 2017

September 13, 2017

April 17, 2017

July 21, 2016

June 2, 2016

May 25, 2016

May 18, 2016
Blog Categories
Blog Archives
Our Writers