April 10, 2013 | Viticulture & Sustainability | Ryan Collins
Recycling Sprayer
REX HILL purchased the first recycling sprayer in Oregon and only the second on the West coast. This cutting-edge equipment is the most environmentally friendly sprayer available and will be used in the Biodynamically farmed, owned and long leased vineyards. It will reduce spray drift by 95% and cut pesticide use by 40%, which means less spray per application, less time filling up the holding tank, and less fuel usage.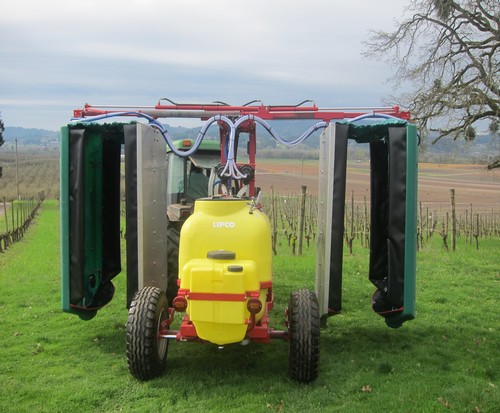 REX HILL's new Recycling Sprayer at Biodynamic, Jacob-Hart Vineyard
GRAPE DISEASES
Wine grapes are unfortunately very susceptible to a number of diseases. This is our fault, as humans, for propagating them for thousands of years through mass selection and for transporting them around the world carrying diseases with them along the way. The main diseases that challenge us in Oregon are Powdery mildew (Erysiphe necator) and Botrytis bunch rot (Botrytis cinerea). The climate in California is favorable for these same diseases and others like Downy mildew, Pierce's disease and Phomopsis. There are many things we can do as farmers to reduce the impact of these diseases through cultural practices like canopy management. However, Powdery mildew, in particular, will destroy a crop if not controlled using pesticides.
WHAT WE DO ABOUT IT
It is important to understand that using the term 'pesticide' includes many categories like insecticide, fungicide, bactericide, rodenticide, and herbicide. These are named based on the target organism and not because they are organic or inorganic chemicals. In the case of Powdery mildew, we need to spray fungicides to control it. Fungicides are products or substances that help control fungal pathogens. Typically fungicides are sprayed by a machine that is towed behind a tractor. It has a tank, pump and nozzles that apply the fungicides to the canopy. Most sprayers use air to transport the liquid to the canopy. Unfortunately the air often carries a percentage of fungicides past the target which is wasteful and not great for the environment.
HOW WE DO IT
We have recently purchased a sprayer manufactured by LIPCO that is a recycling tunnel sprayer. This is the first unit to be sold here in Oregon. It sprays two rows of vines at once within a tunnel (so wind doesn't affect the coverage). A tunnel sprayer has walls that surround the vine on both sides of the trellis. Attached to the wall are the nozzles that spray the vine. The spray that travels past the target hits the other side of the tunnel, runs down to a sump and is pumped back to the tank. This collected fungicide is then applied again. Essentially the sprayer is a precision sprayer. The application rates vary with the canopy size and 95% of the liquid that doesn't stay on the vines' canopy is recycled. There is next to no drift of pesticides to neighboring properties, waterways or any other sensitive areas. Because we are spraying two rows at once we are now using less diesel, compacting the soil less and we are getting more coverage with less fungicide. We should reduce the amount of fungicides used by approximately 35% and our diesel cost for spraying should go down by 50%. These sprayers are not cheap but we are committed to environmental stewardship and want to be leaders in sustainability.
Comments
Gwen Hoheisel
@ Mar 14, 2015 at 8:27 AM
Great sprayer! Can you share the contact information for the distributor you worked with to buy this sprayer? I would like to see if we can get one put in a research trial.
Thanks
henry
@ Nov 12, 2015 at 2:34 AM
The sprayer looks so beautiful and powerful too. I think every farmer needs this to sprayer in their farms to spray water or pesticides with most easiest way. It's surprising to know the facts about the wine diseases here.
Commenting has been turned off.
Recent Posts
October 12, 2018

June 7, 2018

October 30, 2017

October 23, 2017

September 13, 2017

April 17, 2017

July 21, 2016

June 2, 2016

May 25, 2016

May 18, 2016
Blog Categories
Blog Archives
Our Writers