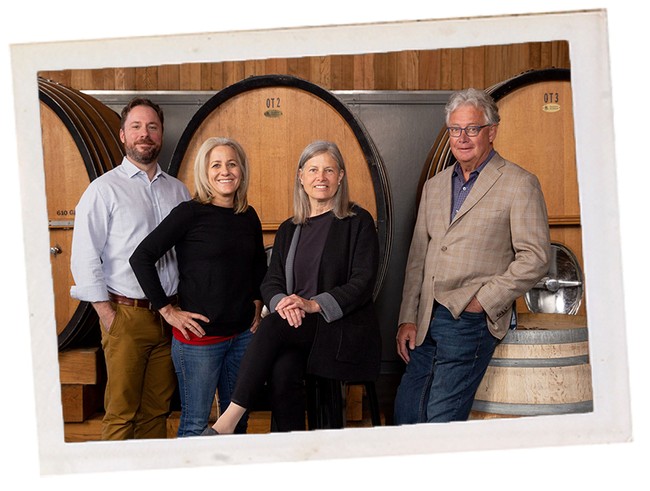 Sam Tannahill, Cheryl Francis, Deb Hatcher, Bill Hatcher
BILL HATCHER: Founder, Chairman
BILL@REXHILL.COM
A poet, Bill discovered an equal taste for food early on and after getting an MBA, embarked on a corporate career in Financial and Strategic planning. Ten years later, tired of five billion dollar corporations, he and his wife, Deb, abruptly moved to Oregon and jumped feet first into wine. Bill consulted through 1987 when the Drouhin family acquired their first property in Oregon. Subsequently, he was engaged to build and develop Domaine Drouhin, remaining there until 2001. Soon thereafter, he founded A to Z with Deb and partners Sam Tannahill and Cheryl Francis as well as handcrafting a tiny production of his own William Hatcher wine. Read Bill's CEO Blog
DEB HATCHER: Founder, Chief Marketing and Sales Officer
DEB@REXHILL.COM
Since founding A to Z Wineworks in her kitchen in 2002, Deb Hatcher has been the soul of the brand. Deb's sense of wonder and humor bring playfulness to A to Z but her expectation of excellence is most influential. From hand-selling and delivering A to Z's early wines to overseeing marketing and sales as A to Z grew to be Oregon's largest winery, Deb built and maintains the brand integrity. With A to Z's purchase of REX HILL in 2007, she engineered a turn-around to reduce production to reclaim top quality and refine the brand as evident in the premier REX HILL line-up of today.
SAM TANNAHILL: Founder, Wine Grower
SAM@REXHILL.COM
Sam Tannahill graduated with honors from Washington and Lee University in Lexington, VA and received a post-graduate degree from University de Dijon. In 2001 Sam and his wife, Cheryl Francis, founded Francis Tannahill Wine Company and in 2002 they founded A to Z Wineworks with their partners Deb Hatcher and Bill Hatcher. A to Z Wineworks quickly became the fastest growing winery in Oregon's history, acquired REX HILL in 2007, and by 2012 was the largest winery in Oregon with distribution in 50 states and 8 international markets. A to Z has also led sustainability in the wine industry by becoming one of the few LIVE certified wineries in the world, becoming a certified B Corp in 2014 and being named a Best for the World B corp every year since. Sam currently serves on the Oregon Business Council, the Board and Executive Committee for Oregon Business and Industry, Oregon State's Food Science and Technology Advisory Committee and co-chair/co-founder of the Oregon Food and Beverage Leadership Council.
CHERYL FRANCIS: Founder, Winemaker
CHERYL@REXHILL.COM
Cheryl Francis studied Enology in France after completing a Biology degree at Lewis & Clark College. She worked three harvests in New Zealand before returning to Oregon to make wine for Chehalem for eight years. In 2002, she joined Deb Hatcher, Bill Hatcher and Sam Tannahill to launch A to Z Wineworks. The group bought one of Oregon's legacy wineries, REX HILL, in 2007 refining that brand for the highest quality. Cheryl oversaw an infrastructure expansion on the property completed in 2016 that added 46,000 square feet of capacity for A to Z.