Compliance laws limit an individual to 2 cases per month.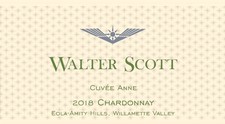 2018 Walter Scott Cuvee Anne Chardonnay (Eola-Amity/WV)
Our Cuvée Anne Chardonnay is a barrel selection from our best Chardonnay sites X Novo, Sojeau, Seven Springs, and Justice Vineyards. It is a blend that represents our vision of Willamette Valley Chardonnay through the lens of the Eola-Amity Hills.

This wine boasts clarity and precision, leading with supple aromas of Meyer lemon zest, green pear, and white peach, layered with floral notes of honeysuckle, lemon myrtle, orange blossom, and a hint of oyster shells. The palate is intricately fruity with freshness at the
forefront, followed by a focused acidity.