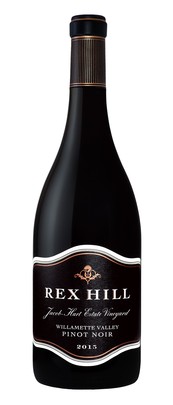 Wine Specs
Appellation
Chehalem Mountains
2016 REX HILL Jacob Hart Estate Vineyard Pinot Noir
94 pts, James Suckling
Tasting Notes:
The 2016 REX HILL Jacob-Hart Estate Vineyard Pinot Noir opens with a complex nose of red and black fruits (raspberry, blackberry, cassis, plum), classic Jacob-Hart floral notes of violets and rose petals, pomegranate, sassafras, sandalwood, fresh earth, charred herbs (marjoram, bay leaf), toast, and nougat. On the palate, the tannins are plush and pillowy rather than big and blocky. The full, concentrated, rich mouthfeel has firm acidity and compelling flavors of cocoa, honeycomb, cherry essence, ruby port, and boysenberry. Elegant yet structured, this wine is well deserving of its place at the top of REX HILL's single vineyard offerings. Drink now through 2030.
Pairs With:
---
Foie gras, roasted pheasant, roasted lamb loin stuffed with wild mushroom duxelles and butternut squash puree, pan-roasted quail
Recipe from Chef Amy:
---
Roasted Lamb Loin Stuffed with Wild Mushroom Duxelles and Butternut Squash Puree
To make Duxelles:
1 lb mixed mushrooms (any combination of shitake, crimini, oyster, or chanterelle) cleaned, stemmed, and diced small
1 small shallot, minced
3 Tbs butter
½ cup dry white wine
1 Tbs minced thyme leaves
1 Tbs lemon zest
Salt and pepper to taste
Heat butter over medium heat in a saute pan. Add shallots and mushrooms and cook for 5 minutes. Add the white wine, thyme, and lemon zest. Continue cooking until the wine has completely reduced. Remove from heat and season with salt and pepper. Let cool completely.
To make Lamb:
One lamb tenderloin (about 1.5 lbs.)
1 cup Mushroom Duxelles
3 Tbs olive oil
Salt and pepper to taste
Note: you will need kitchen twine and a meat thermometer
Preheat the oven to 400°.
With a sharp knife, cut a pocket about 2 inches deep down the length of the tenderloin. Salt and pepper the lamb inside and out, then stuff the mushroom duxelle into the lamb. Tie the tenderloin, in 3 or 4 places with the twine.
In a large oven-proof saute pan, heat olive oil. Sear the tenderloin until the outside is well-browned. Transfer to the oven and roast for approximately 10 minutes, until the internal temperature reaches 150°. Let the lamb rest well before removing the twine and slicing.
For Puree:
1 large butternut squash, peeled and cut into 1 inch cubes
2 Tbs olive oil
3 Tbs butter, softened
Salt and pepper to taste
1 pinch nutmeg
Preheat oven to 350°. Toss butternut squash with olive oil, salt, and pepper. Roast on a foil-lined sheet pan for approximately 30 minutes, until tender but not too brown. Once cooked, transfer to a food processor and add butter and nutmeg. Puree until smooth. Add more salt and pepper if needed.
To serve, arrange two slices of the stuffed tenderloin atop the squash puree.