Compliance laws limit an individual to 2 cases per month.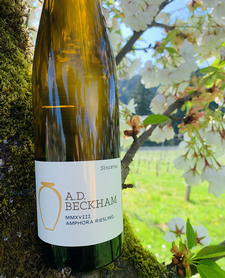 2018 Beckham Estate Amphora Riesling "Sincerus"
2018 AD Beckham "Sincerus" Riesling. We named this wine "Sincerus" which is Latin for pure, honest and true. The fruit was pressed and fermented with native yeast in Andrew's terra cotta vessels and aged 10 months in Novum then 5 months in neutral barrel before being bottled un-fined and un-filtered. Just 70 cases made. This dry Riesling shares pineapple, honey and wet slate on the nose. Meyer lemon, a bit more pineapple and slate on the palate with texture and acidity throughout.