Compliance laws limit an individual to 2 cases per month.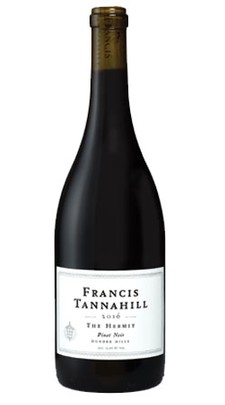 2016 Francis Tannahill 'The Hermit' Pinot Noir
93pts, Wine Enthusiast
Tasting Notes
The 2016 Francis Tannahill Hermit possesses a dark Pinot Noir color of saturated purple from center to rim. When first poured primary aromas of Bing and black cherries, blueberries, violets, cinnamon, blackberries and wild strawberries jump from the glass. As the wine sits in the glass, classic Dundee Hills Pinot Noir, aromas of damp earth, eastern spices, tobacco and baking spices deepen and add complexity to the nose. It takes a bit to open but the attack finally bursts open with rich flavors of red and blue fruits. As the wine continues across the palate, serious tannins combined with mouthwatering acidity gives this wine a powerful foundation that the rest of the wine is built on. On the mid-palate, the wine takes off and becomes very complex with spice and mineral flavors joining with the boisterous fruit. The finish is long, dark and mysterious and only now hints at the complexity to come over the next 10-20 years.