He Said...
- Mike Willison
I drank enough fussy, indulgent, crappy, delicious, anemic, mustachioed, skeevy, elegant, flamboyant, flat, voluminous, aromatic, closed, oxidized (from age), oxidized (on purpose), natural, engineered, silly, enigmatic, meta, thought provoking, and stultifying wines this year to render my neighbors absolutely speechless on each and every recycling day. Some of them I absolutely adored. In no particular order, I give you my favorite wines of 2012:
2005 Cold Heaven Syrah, Second Sin, Santa Barbara
Morgan Clendenen always kills Viognier in a decidedly un-California manner. The Syrah is no different. This wine is light on its feet and is great at parties. It says just enough and knows when to walk away from a vitriolic conversation. Shared with friends without food, we all agreed that the bottle was a tad bit too empty too very soon. This is Syrah for Pinot Lovers.
2010 Vouvray, Domaine Huet, Le Haut-Lieu
Its like rooting for the Yankees. Of course this is awesome. Chenin Blanc has been the new black in my wardrobe for the last 15 years and I don't see any reason to change that. If 70's punk style is still somehow considered "punk", and animal prints insist on showing up on runways every three years, then its okay for me to love Chenin with all of my heart and my closet full of Sperry top-siders.
2011 A to Z Wineworks Pinot Noir, Oregon
I'll root for the home team a bit here not because I have to, but because this wine is that good. 2011 was the miracle harvest wherein we stole victory from the jaws of defeat when the weather gods threw us some 9th inning sunshine like Mariano throwing off speed with location for the save. We broke bats, mystified right handed batters, and jammed up the lefties. Guaranteed to be a first-round hall of famer.
2009 Fleurie, Coudert Clos de la Roillette
Another miracle vintage that hoisted Beaujolais into the spotlight for a spell, this was the kind of wine that makes one consider whether or not to share too loudly about it's glories. To say that Beaujolais is underappreciated is akin to pointing out exactly when R.E.M. lost the plot (after Life's Rich Pageant and before Document, by the way, or whenever Mills scored that cape); it just, sadly, is. I don't need to sell you on this; you either get it or not.
2006 Troon Vineyards Old Vine Meritage, Applegate Valley
At $32, this is the best Meritage I've had in a very long time from a price-value standpoint. Even without its awesome price tag, this wine is a standout for its lush, rich, developed but staid intensity and delicate nuance that is so often squashed in modern winemaking. Bright and cheery, yet brooding and macho, this is an example of why everyone should be paying attention to Southern Oregon, but likely won't.
She Said...
- Carrie Kalscheuer
As we head into 2013, it's time once again to reflect upon the prior year and all that it had to offer. I was fortunate enough to be able to do some great traveling this year, getting to taste wine in Tuscany, California, and even Arizona. As is usually the case, a combination of place, the wine itself, and the company with which I shared the particular wine all played important roles in determining my favorite wine of 2012. These in particular stood out on all counts. Here they are for your consideration: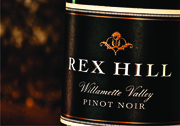 Contact the winery today to learn how you can procure a bottle of this great wine for yourself by emailing us at info@REXHILL.com or calling us at 800.REXHILL.
The December 31st issue of the Wine Spectator showcases the Top 100 wines of 2012 along with standout wines in the Willamette Valley including our very own 2010 REX HILL Willamette Valley Pinot Noir with 90 points. This fresh and focused wine is a blend of eight vineyards, representing high-quality and sustainably grown grapes from every sub AVA in the Willamette Valley, including our Biodynamically farmed Jacob-Hart Vineyard.
"Since 2008, [Michael] Davies has fashioned REX HILL's Pinot Noirs into wines of real specificity."
For the full article, click here.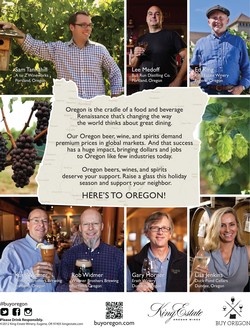 The Buy Oregon campaign launched November 15th, and we are happy to be featured in it. Spot Sam Tannahill, our Founder & Director of Viticulture and Winemaking, featured in the top left corner. Some REX HILL faces can also be spotted in the following video:
The October 24th issue of the Wine Spectator Insider announces some exciting scores for some great Oregon Pinot Noirs including 91 points for our 2010 REX HILL Jacob-Hart Pinot Noir. Jacob-Hart is REX HILL's crown jewel vineyard located in the Chehalem Mountains AVA. The grapes and ensuing wines from this unique vineyard offer a wealth of complexity derived from vines farmed to Biodynamic standards on every soil type found in the Willamette Valley.
We have finished harvesting the REX HILL Estate vineyards; the last block was harvested this past Wednesday. Although picking fruit from our vines is done, our cellar is still hard at work making the 2012 vintage wines. Don't miss out on seeing the winemaking process with advanced sommelier and chef, Mike Willison, on his Harvest Tour. The last tour is Saturday, Oct. 27th from 1:00 to 2:30 pm. $45/person, Crown Club discounts apply. Please make a reservation by calling Mike at 503.538.0666 ext. 222 or emailing him at MikeW@REXHILL.com. Limited space available.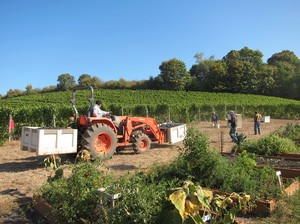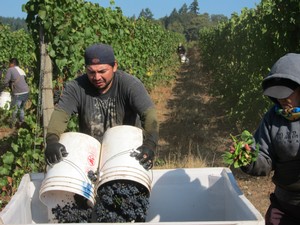 He Said...
- Mike Willison
In my former life as the wine director at a restaurant in Chicago, I remember, with no small amount of disdain, the first time a bottle of wine arrived on our doorstep bedecked in a kind of heavy armor version of something looking vaguely reminiscent of a wine bottle. The punt was almost laughably deep. The glass seemed an impenetrable barrier. The lip of the bottle was too wide to accept most standard wine bottle openers. Each bottle seemed to weigh just shy of a stone. I had tasted the wine during a salesman's recent visit, but hadn't handled it or given it much thought at the time, so its heft was more than just a bit surprising. The six-pack seemed like it should be holding a case. I checked the bottle- not once, but twice- to ensure that it was only meant to hold 750 ml. When trying to inventory the wines I was slightly annoyed to find that these huge bottles didn't fit in our rack system properly, so I had to devise an alternative storage method that included duct tape and a roll of nickels. Servers would routinely be tricked at the table when pouring wine by not only the weight of the bottle, but the color of the glass that seemed to absorb and extinguish light. Needless to say, customers were impressed with the wine and found the bottle to be majestic, kingly, and worth endless prattling and praising. The contents were but an afterthought as jealous passersby ogled and oohed with envy. I imagine the feeling was like that first ride in a limousine when you rolled down all the windows and cranked up the tunes on your way to the Sadie Hawkins dance. Are we that shallow? A recent article suggests that we are.
She Said...
- Carrie Kalscheuer
Heavier wine bottles appear more expensive because they are more expensive. But to what expense a solution?
I understand it from a psychological perspective - heavier things are less breakable and therefore (seemingly) worth more. Your linked article is correct in that it is all about the marketing. While part of me knows that this goes way beyond the scope of the wine world and into deeper socio-economic territories, I do hope that another of the wine marketing darlings will soon overtake this as more important (read: cooler, hipper, more worthy of the almighty dollar): sustainability. Heavier bottles cost more: more resources, more energy, and more money.
Of course, there is a (fairly easy?) solution. If the wine professionals and "amateur collectors" already know better, as the article you present states, then it is up to us to speak up and stop the trend. It seems to me that without an avenue with which to hawk their arm fatigue-inducing bottles, the winery in question would have to stop producing them. You spend some time above making it known that you hadn't seen the bottle prior to purchase. It makes me wonder – after the exponential bottle sales generated by passers-by gawking and admiring the heft and glory of the bottle in question, did you reorder??
He Said...
- Mike Willison
As the fireworks rage and the barbeques smoke and bellow this July 4th, the cans of High Life crushed on dimpled foreheads and Mike's Hard Lemonades sloshed back in mighty, diabetic gulps, one is left to wonder why there isn't a wine that symbolizes the American spirit similarly. On New Year's Eve we toast with Champagne or sparkling wine as if the French invented the holiday and sing "Auld Lang Syne" as if Robert Burns was Baby New Year himself. Our celebration of our Independence resembles more a rag tag Hillbilly Fallujah than a marked and poignant remembrance of our Nation's emergence. I'd love to see our wine industry take a stab at marketing the 4th as a wine-centric event like NYE. Maybe if only long enough to raise one glass and shout a mighty "Huzzah!," but to do so anyway, convincingly, and with a unified spirit of purpose.
But what to fill one's cup with? Zinfandel? Petite Sirah? Chardonel? Jo Diaz makes a convincing argument for the dark and brooding Petite Sirah here, and I'd buy it, too, if I thought you could actually drink Petite Sirah with anything other than a giant steak, a lamb, or an elk. Zinfandel is too Croatian and Chardonel is disqualified for being a hybrid (I really only brought it up because I had one once and it was decidedly un-terrific). This leaves us with only one clear choice: Norton. Norton is an indigenous variety of the Vitis Aestivalis species, and is grown only in North America, but most famously in Missouri. The best way to describe wine made from Norton is "purple-y", in my experience. Haven't heard of it? That's because it actually doesn't do very well in California, that place of Cabernet Sauvignon and Chardonnay, all Frenchified and stuff. So what if we all rallied around a Norton producer from Missouri or Georgia and bought a bottle every year for the 4th? What if we cultivated a relationship with wineries in Virginia that are embracing this American classic (it is said that US Grant stocked his presidential cellars with the stuff)? What if, what if, what if?
She Said...
- Carrie Kalscheuer
As a gal who came to Oregon via Missouri, I tip my hat to your Norton theory. However, Independence Day is all about barbeque and fireworks, hot weather and flip-flops. Only in Oregon are we still enjoying red wine during the day, as summer has yet to actually begin here. Elsewhere in our great nation, and this past year especially, summer has been going on for months - long before its actual calendric date would indicate. In places like Norton's preferred growing region, summer has already reached a scorching crescendo. As I write this, it is a balmy 93 degrees Fahrenheit at 11:30pm in Missouri. I say America needs whites – crisp, refreshing, chilly whites – to go with our potato salad, grilled chicken and blistering heat. We're all about the blending of cultures in our country, so why not allow for the adoption of something with its roots on another continent? After all, that's who we are as a nation, isn't it- a melting pot of different cultures that fought to gain independence from their oppressive former nations? With that in mind, I vote that we make something like Sauvignon Blanc our 4th of July wine. While it might have its roots in Bordeaux, there the grape's name is hidden behind the region or village name – oppressed, you might say. In America, it has found its freedom. So let's toast a chilled glass of crisp, clean, fruity, refreshing Sauvignon Blanc at our hot summer 4th of July picnics this year. And, hey, why the heck not… Huzzah!!
He Said...
- Mike Willison
There's been a maelstrom of articles, blogs, and random blatherings bandied about lately regarding how, exactly, to market wines to Millennials. Apparently, this group of people represents the Most Important Demographic Ever, especially if you ask them, and we all need to unlock their mysteries before it's too late. The general consensus is that young wine drinkers aren't going to react to the same old, stodgy, buttoned up images of wine drinkers in country clubs sipping away at Montrachet after a ripping good game of squash with the same enthusiasm as generations that preceded them, so we should figure out how to be hep cats and get down with their lingo and colloquialisms. As such, we will all begin making wine with labels like this, or this and be wildly successful. Sadly, I believe that we are all missing the point.
Consumers make connections to brands, styles and varieties of wine based on any number of diverse criteria, and not all Millennials, Gen X-ers, or Baby Boomers adhere to any cohesive set of strictures except one: authenticity of experience. Sure, any one person from any generation may like shiny things that cost a lot, or weird stuff that they pioneered and are now jaded over because Brand X sold out to The Man, or read about Brand X in the Major Wine Publication Magazine, but you cannot beat the Real McCoy. Seeing a picture of the Grand Canyon isn't the same as flying over, or walking on the edge of the Grand Canyon. So, make good wine, get it in people's glasses by pounding the pavement, and have a good story about where it came from, the people who made it, or the magical company culture. Make the experience the thing, and make it an authentic extension of the winery as a whole, and people will respond. Otherwise, your target market will eventually outgrow your pinpoint marketing strategy like you outgrew your shoulder-padded oversized blazer and love for NKOTB.
She Said...
- Carrie Kalscheuer
Who outgrew NKOTB? In all seriousness, you absolutely have a point. I think, however, that what these articles are trying to get at (although possibly missing the "how to get there") is that we have a slew of newcomers to the sport of wine drinking each year, and that if we position ourselves as an out of their reach, too-cool-for-school industry, we will eventually become extinct. Now, we know that isn't true, because these kids will eventually grow up, mature, evolve – just like you say. They'll learn how to drink black coffee without making a face, will develop a taste for things like sweetbreads, and will hopefully learn the difference between a Cabernet and a Pinot Noir. But simply saying, "we'll get 'em someday" isn't going to increase business during a depressed market.
Authenticity is always the best approach to anything, sure. But we're still missing that link – that thing that makes our industry approachable to young potential wine drinkers while maintaining its integrity. And it can't be about just making your wine approachable, but further, it's getting them to want to approach your wine. That ingress is crucial when you're attempting to deliver the 'story' of your wine and winery. Without an IN, we're twiddling our thumbs and waiting for them to outgrow this generation's version of shoulder pads and NKOTB.
Recent Posts
October 12, 2018

June 7, 2018

October 30, 2017

October 23, 2017

September 13, 2017

April 17, 2017

July 21, 2016

June 2, 2016

May 25, 2016

May 18, 2016
Blog Categories
Blog Archives
Our Writers