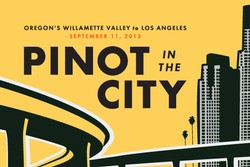 Cheryl Francis, Founder & Consulting Winemaker, will be heading south to pour our REX HILL wines at this outstanding tasting event.
Tickets are $75/person
Hosted at The Ebell in Los Angeles
On September 11, 2013
For more information, visit the Willamette Valley Wineries Association website.
From September 10th through November 20th, fly into any of the following participating airports and check a case of wine as luggage FREE on your return flight home: Medford, Redmond, Eugene, Portland and Walla Walla, WA. Show us your Alaska Air ticket stub at the REX HILL Tasting Room and receive a complementary tasting. We are open daily from 10:00 AM to 5:00 PM.

92 pts. REX HILL Shea Vineyard Pinot Noir 2010
"Velvety, offering pretty plum and cream aromas and flavors on a light, supple frame, lingering easily and persistently on the refined finish." - HS Wine Spectator Insider 7/24/2013
Only 117 cases were produced and our Crown Club Members will be receiving it exclusively in their September shipment. Join now to guarantee that this wine makes it into your cellar.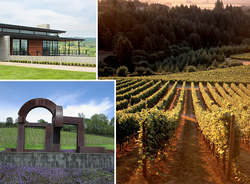 REX HILL Winery & Vineyards
"Set atop the idyllic Rex Hill just as you enter Willamette Valley wine country sits the REX HILL Winery & Vineyards. If you have an opportunity to join a tour of the vineyards, do. The extremely knowledgeable staff makes wine education (even more) fun, and only adds to the overall experience of the visit. Once inside the tasting room, soak up your surroundings. The arched tunnels and exposed brick walls are remnants of the building's original use as a hazelnut processing facility. Now, they add to the décor and serve as a reminder of the history of the land you're standing on. Make sure to taste the REX HILL Reserve Pinot Noir as you wander around the impressive building, or step outside to sit at a charming bistro table overlooking the vineyards that have lovingly produced some of the finest Pinot Noir you'll ever taste."
For the same intimate experience, book a Tour & Seating Tasting with one of our knowledgeable staff. Tours & Seated Tastings are offered daily at 11 am for $45/person.
The Virginia Garcia Memorial Foundation will host it's first ever "The Grape Adventure: Wine Tour & Garden Party" fundraising event. Your journey will personally introduce you to those whom your donation will impact and the clinics where their lives will be changed.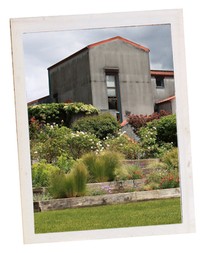 When: Saturday, June 29th, 2013
Time: 1:00 PM to 6:00 PM
Cost: $100 per ticket
Itinerary
Both tours culminate with a relaxed garden party at REX HILL. Delight in small plates from Portland's farm-to-table pioneer Genoa, wine tastings, music by Mockingbird, a discerning silent auction and the opportunity to support health care for migrant and seasonal farm workers year-round.

The Decanter World Wine Awards is the world's leading wine competition. The competition is well known for its rigorous judging process, which has led to the Decanter World Wine Awards becoming the most authoritative source of wine recommendations for wine lovers worldwide. This year, the 219 judges from all around the world assessed 14,362 wines from 52 countries. This year's expert panel of judges included 75 Masters of Wine and 13 Master Sommeliers.
The 24th Annual Wine & Spirits Restaurant Poll featured REX HILL for the 10th time as one of the Most Popular Pinot Noirs.
To view all the wineries featured in this poll, subscribe to Wine & Spirits.


2010 REX HILL Jacob Hart Pinot Noir - 93 points & Editors' Choice
2010 REX HILL Reserve Pinot Noir - 92 points & Editors' Choice
To find REX HILL wines in your area, visit our Find Our Wines page.
Also, two of our Crown Club exclusive wines scored in the same issue:
2010 REX HILL La Colina Pinot Noir - 93 points & Editors' Choice
2010 REX HILL Old School Pinot Noir - 91 points
Visit our Crown Club page to learn how you can guarantee that these wines find a way into your cellar.
To read the reviews on each of the above wines, click here.

REX HILL will be one of 64 Willamette Valley wineries featured at the Pinot in the Windy City event on March 7th, 2013 in Chicago. If you're in the area, come check it out!
Recent Posts
October 12, 2018

June 7, 2018

October 30, 2017

October 23, 2017

September 13, 2017

April 17, 2017

July 21, 2016

June 2, 2016

May 25, 2016

May 18, 2016
Blog Categories
Blog Archives
Our Writers