One hundred sheep joined our vineyard crew this spring to pitch in and graze the cover crop at our certified Biodynamic, estate vineyard, Jacob-Hart. They save on tractor work and naturally fertilize the vineyard but move on in the next few weeks as budbreak gets closer.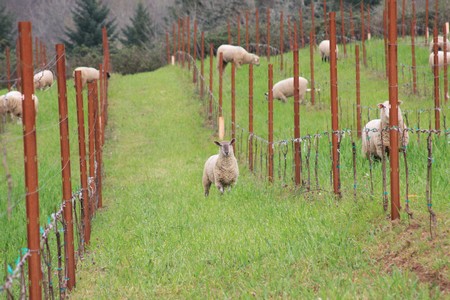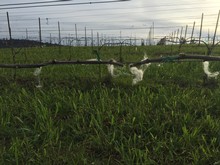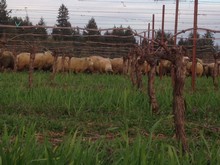 The thistle has long been a symbol for nobility of character. The Order of the Thistle is the highest chivalric order of Scotland. It is associated with tenacity and strong will — those who wound it are punished. It is an example of the delicate balance often found in nature between beauty and something prickly. The sharp spines and pricklers protect against the trespasses of anyone attempting to pluck away its beautiful flower heads or to eat it. Many species attract goldfinches and are nectar sources for bees and butterflies. The thistle has a tenacious grip on the land that supports it, and a defiant ability to remain and flourish in spite of efforts to remove it.
We incorporated the thistle into our REX HILL logo to represent our determination to make wines of the highest quality regardless of obstacles. The gnarly vines, looking like dead wood in the winter, pull nutrients from deep in the soil to bud and grow finally offering delicious, delicate berries at harvest. The thistle reflects our commitment to make beautiful, superlative wines from grapes grown sustainably revealing an evident sense of place and made without engineering.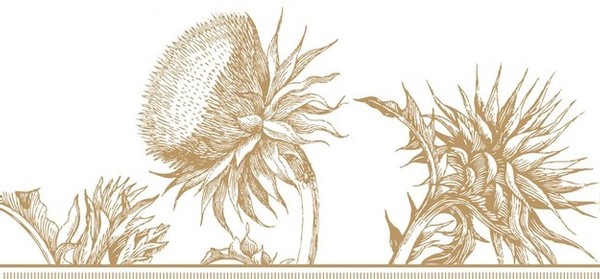 During 2014, I was given the opportunity to join the Finance department at A to Z Wineworks. There are many things that I enjoy about working at the winery including the people, the enthusiasm and energy, and, of course, the canines. Being an outdoor enthusiast, however, the thing I enjoy most about the winery is the significant amount of wildlife present on the grounds. The presence of these animals came as a bit of a surprise to me (although it really shouldn't have)!
During my first three months here I have had many interesting wildlife sightings:
A Yearling Male Deer: I remember one morning we had a yearling male deer meet us in the parking lot. He did not seem afraid and casually strolled into the vineyard and down a row of vines.
Barred Owls & a Great Horned Owl: Another evening, I was leaving the winery and got to listen to the hooting of, not one, but two owls sitting in the pine trees near the parking lot. Then, they flew away, and I recognized them as Barred Owls. On other occasions, a Great Horned Owl has been spotted.
Hummingbirds: They seem to be everywhere as they enjoy the lavender and other plants available for them to feed upon!
Red Tailed Hawks: There are almost always Red Tailed Hawks (and other birds of prey, including an Osprey!) present overhead, calling to each other and playing aerial tag.
Robins & Starlings: Flocks and flocks come to the vineyard in the winter and help clean up the left over fruit.
Rough Skinned Newts: At the ground level, I have found these interesting amphibians.
Coyotes: My highlight – listening to a group of coyotes howling and calling to each other one afternoon in the vineyard. It is one of the classic sounds in nature and always enjoyable for me to listen to.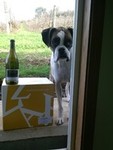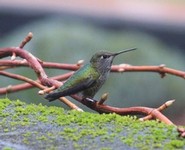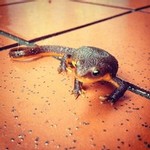 I look forward to many more wildlife sightings in the Spring and the coming Summer. When you are here, I suggest taking a moment to look around and listen for the presence of wildlife, especially near the vineyard in the morning and evening hours. Chances are there may be eyes looking back at you!
With the bulk of the holiday season behind us, what could be more nourishing than a simple, delicious meal in front of the fireplace and a glass (or bottle) of wine that takes the edge off a bitterly cold night. This winter, treat yourself by following these simpler winter wine pairing suggestions and you may just warm up to the winter months after all.
Roasted chicken with dumplings
This quintessential winter dish pairs seamlessly with a medium-bodied white wine that gives the cooked vegetables equal time in the flavor spotlight. The roasted chicken, hint of herbs, cooked vegetables, and cream sauce are a match made in heaven for a bottle of Chardonnay. The wine will play well against the savory flavors and yet complement the rich, luxurious texture of the sauce while at the same time keeping the dish light and vibrant.
Gruyere and apple grilled cheese
Pair it with a vibrant, fruity Pinot Gris, a medium-bodied white wine with a delicate balance of acidity and sweetness. Its crisp acidity will lighten up the creaminess of the cheese and call out the notes of the green apple folded into the whole gooey mix. Pinot Gris is grown throughout the world and tends to vary greatly depending upon its terroir. For a particularly delicious experience, seek out a bottle from Oregon and enjoy intense aromas of apple, pear, and melon.
Roasted root vegetables with caramelized onions
Whether you've looted the local farmers market or are looking to clean out the vegetable drawer, a pan of roasted root vegetables can hit all the right notes on a dark winter night. Uncork a bottle of off-dry Riesling, an aromatic white grape variety, and you'll never eat your veggies alone again. Riesling will play off the sweet notes of the caramelized onions while at the same time offering a bright acidity and lovely fruity interplay that pairs well with the caramelized, roasted vegetables.
Raspberry Chocolate Molten Lava Cake
For those looking to get their chocolate fix, nothing fits the bill better than a molten lava cake. Chocolate lava cakes are generously quite rich and savory and can pair fantastically well with a sweet rosé. Choose a rosé with medium acidity - just enough to cleanse our palate of chocolate ganache - and strong, vibrant notes of red berries such as strawberries and raspberries. You'll swoon for this duet of ripe fruit and rich chocolate as it is guaranteed to hit all the right notes.
When it comes to crafting a successful wine pairing to accompany winter fare, sometimes all it takes is a little inspiration to get started. So whether you're serving a group of family and friends, or just treating you and your sweetheart to a fireside dinner, a little advanced planning and a few simple ingredients can warm up even the coldest night.
| | |
| --- | --- |
| | Madeline Blasberg is a Certified Wine Consultant who has spent time in Mendoza, Argentina, where she was surrounded by wine, both personally and professionally. Currently, Madeline works as the Official Wine Commentator & Reviewer for Etching Expressions, a company specializing in personalized wine bottles. |
"Bees do have a smell, you know, and if they don't they should, for their feet are dusted with spices from a million flowers."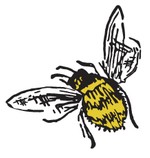 Australia Day marks the arrival of Britain's First Fleet to Australia in 1788. Follow this 14-step guide to celebrate Australia Day like an Aussie:
Sleep in.
Put the beer on ice.


Go for a swim.
Turn on the radio to Triple J. Listen to the Hottest 100.
Crack a cold beer.
Kick the footie around.



Turn on the BBQ.
Crack a cold beer.
Men stand around the BBQ and cook sausages.
Get sunburnt.
Crack a cold beer.
Eat burnt sausages.
Play backyard cricket.



Go to bed early because you have work the next day..........
Cheers mate!

"A box without hinges, key, or lid,
yet golden treasure inside is hid."
Gollum, The Hobbit by J. R. R. Tolkien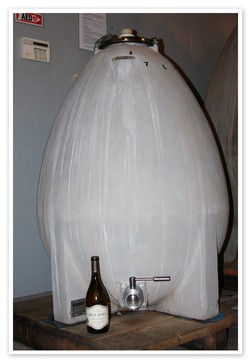 Bilbo's answer to the riddle posed by Gollum (remember they were playing for the most precious thing Bilbo possesses – not the ring of power, but his life) is as we all know now, an egg. The humble egg has long been a powerful symbol in history, mythology, philosophy (which came first?) and lore. Why and how has it found its way into our cellar in the guise of a fermentation vessel. The how is easy. Our eggs came to us from a company in France, Nomblot.
The Nomblot Company, managed by Marc Nomblot, has been manufacturing concrete wine tanks in Burgundy since 1922. In 2001, Michel Chapoutier from Maison M. Chapoutier, a 200-year-old winery in France's Rhone Valley, asked Marc to create an egg shaped concrete wine fermenter. After the first tank was created and installed at Masion M. Chapoutier, word quickly spread about this unique shape. In 2006, A to Z Wineworks, with the help of Jerome Aubin from Artisan Barrels, became the first winery in Oregon to import and use a Nomblot Egg tank. Since that time there has been a minor explosion of egg shaped tanks in Oregon, California and Washington wineries. In the ultimate "tribute," the concrete egg tank shape is now being made by companies in the United States.
We choose to use Nomblot tanks because no chemical additives are used in the construction of the tanks – only sand, stone and water. Also, Nomblot has not only been making concrete wine tanks for over 80 years, but employs a unique process that creates a tank of exceptionally high quality. As many things old that are new again, concrete was used for many years in building wine fermentation tanks. Over the past 30 years concrete fell out of favor as stainless steel replaced it as the material of choice for tanks. Winemakers now are relearning that concrete is an ideal material to use for fermentation and storage as it is porous (like barrels), which allows the wine to slowly "breathe" without giving the wine oak flavors. Concrete is also a fantastic insulator which allows for slow, cool fermentations and ideal wine storage temperature that helps preserve aromas and mouthfeel. Lastly, concrete, like wood, is a more natural, less processed, and less sterile material than stainless steel which, like Biodynamic practices, brings the wine closer to its natural environment in which the grapes were grown.

After working in the wine industry in Napa Valley for 10 years, I decided to pack up my things and move to the wine industry in the Willamette Valley.
Why Oregon?
My husband and I first visited Portland three years ago on vacation, and we fell in love with the city. The people here are much more relaxed; the city is clean and has such an urban, artsy feel to it; the food is amazing; and there are so many unique shops and a sense of creativity all around. Don't get me wrong, Napa is beautiful with amazing food, a central location, and a small tight-knit community. It was just time for a change after living there for almost all of my life.
Napa vs. Willamette Valley wine….
This is a tough and sensitive subject! When I first started working here, my co-worker joked about Napa being good for auto parts. I sensed a little competition, similar to Napa vs. Sonoma. Napa and the Willamette Valley are two very different wine regions. One reason is the weather. Napa has a very hot and dry climate with very cold winters, ideal for Bordeaux varieties. The Willamette Valley is much cooler, making the weather more ideal for Burgundy varieties.
I do have to say that the Pinot Noirs here are delicious! They are much lighter than what I'm used to, but balanced and structured. I look forward to learning more about Oregon Pinot Noir and drinking more of it too!

Are the super cyber sales getting you down? Is your iPhone blowing up with last chance savings? Pre-black Friday, Black Friday, Cyber Monday. Thank goodness for Giving Tuesday, but back again on Wednesday is Black Friday, extended for yet a few more days. Ack!
Looking back to my childhood days, we were lucky enough to be commercially traumatized only by a few sources – the local newspaper, only two TV channels and the Sears Roebuck catalog. How the world has changed, but how lucky am I to remember what the holidays really meant in our household: family, friends and Christmas vacation.
Sure there were presents, but not this organized chaos of what the millennial marketing campaign has become. The pressure to be a consumer or be consumed? Hats off to them, they're good at what they do, but I'm hitting the delete button. This only drives me closer to local stores that matter - New Seasons, Red Ridge Farms, Rain Dance Marketplace, Yamhill's Gallery and Gifts, and many more who offer thoughtful, sustainable, local, handmade and homemade goods. Do cyber sale sites promote these gifts enough? Maybe, but I stopped looking long ago.
So, if you're feeling the pain, stick your nose in a fresh Noble tree, light a votive candle and bring out the record player. I hear Bing Crosby calling for a White Christmas and Elvis having a Blue Christmas without you…
During this busy holiday season, I challenge you to ask yourself, "Do you celebrate the things you do have?"
Merry Christmas! Joyeux Noël! Frohe Weihnachten! Mele Kalikimaka! Meri Kirihimete! Nollaig Chridheil! Nizhonigo Keshmish! Sretan Božić! Sheng Dan Kuai Le (圣诞快乐) !

Two years ago, Ed King invited a few leaders from the Oregon beer, wine and spirits industries to discuss common interests. The result? A non-profit Oregon Craft Beverage Council to promote awareness of the jobs and monies the craft beverage industries contribute to Oregon's economy. Additionally, the collaborative group can now offer a unified opinion on state legislative issues of concern to our industries. Ed produced a short video that aired during the holidays on cable television in 2012 and 2013. This year an awareness campaign, "Keep it Local," launched at the end of October to remind Oregonians of their many local beverage choices for the holidays. Billboards, window stickers, bottle neckers and shelf talkers can be found throughout the state and t-shirts can be purchased in our tasting room.

Distilleries
Breweries
Wineries
Total Oregon distilleries, breweries, wineries
63
214
545
Total number of jobs created
350
6,500
13,500
Economic boost (2013)
~ 3 BILLION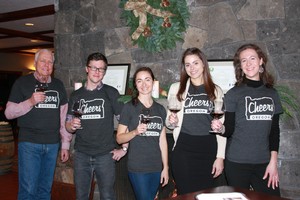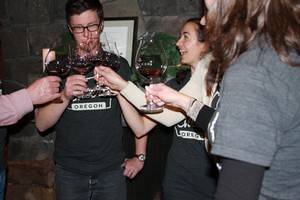 Recent Posts
October 12, 2018

June 7, 2018

October 30, 2017

October 23, 2017

September 13, 2017

April 17, 2017

July 21, 2016

June 2, 2016

May 25, 2016

May 18, 2016
Blog Categories
Blog Archives
Our Writers