Honestly, my favorite pairing with Pinot Noir is a nice array of charcuterie and artisan cheeses. It's my tiny piece of heaven that takes only a few minutes for this busy mom of two to throw together after a long day at the office. These busy parenting years will slow down eventually and maybe then I'll spend a little more time around the stove but for now, I love my meat and cheese platter!
Our friends at Cabot Creamery have put together an easy-to-follow infographic on How to Make a Cheese Plate here.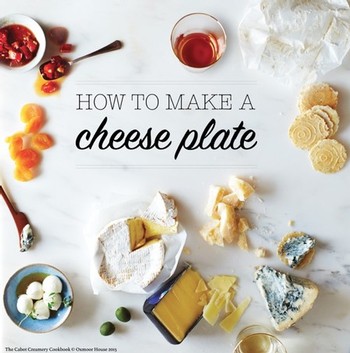 Photo by Cabot Creamery.

I don't have a green thumb. Far from it. I've been known to kill cactus. So you might imagine my apprehension when Karen, our Viticulturist, handed me her pruning shears as we stood in the REX HILL Vineyard this misty February morning. I didn't anticipate our morning field trip and lesson in vineyard maintenance would involve hands-on practice.
Of course, I needn't have worried. Karen showed us how she and our vineyard team prune back last year's growth leaving behind a few select canes that will become the backbone for this year's crop. The process is critical for regulating the number of shoots that will grow this coming season and for keeping excellent fruit quality. Winter pruning kicks off the year for the vineyard team and they work through the cold and the wet to ready the vines for another growing season.
Several factors are taken into consideration including cane thickness, location relative to the guidewires, and number of buds in order to decide what to cut, where to cut, and what to leave alone. Experienced workers can assess and prune a vine in a minute or two. I, on the other hand, took ten minutes just to confirm with Karen (twice) that I was cutting correctly. I didn't want to add Pinot Noir to the list of plants that perished at my hand.
Thankfully, my vine is in good health (even after I was through with it) and has three healthy canes through which it will produce fruit this year. Is it Spring yet?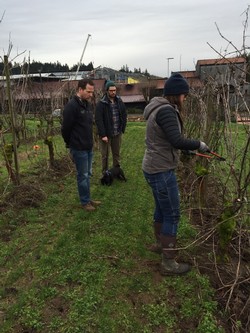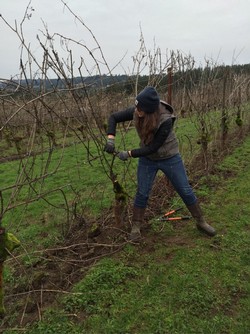 | | |
| --- | --- |
| Karen showing Tom & Jonathan how to prune a vine. | Karen pruning a vine at the REX HILL Estate Vineyard. |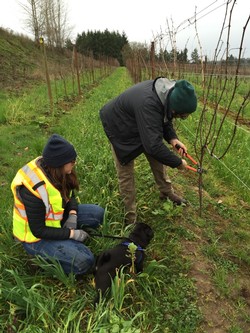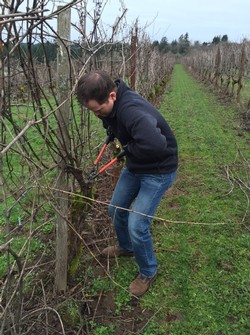 | | |
| --- | --- |
| Tom taking a turn at pruning while Karen & Batpug (Tom's dog) oversee. | Jonathan's turn to prune part of the REX HILL Estate Vineyard. |

February 2 is the cross quarter day (or midpoint) between Winter Solstice and Spring Equinox. In Portugal, it is not the groundhog, Punxsutawney Phil, but the Lady of Candles who is looked to for seasonal predictions.
Quando a Senhora das Candeias está a rir está o inverno para vir, quando está a chorar está o inverno a acabar.
[Translation: If she smiles (Sun) the winter is yet to come, if she cries (Rain) the winter is over]
It's 2016 and our resolution is to drink more wine! There isn't an occasion, time of year or a meal that wine won't improve. We've come up with six solid reasons why you should choose to drink wine this year:

1. Wine pairs well with food.
The right pairings can make the food and the wine taste even better. To get started, try these pairings from our certified Sommelier, Carrie: http://bit.ly/1K2VXrn.
2. You don't need bitters, a shaker or ice to make a great glass of wine!
All you do is pop the cork (or unscrew the cap) & pour. Easy as 1,2.
3. A glass a day keeps the doctor away.
Wine has a compound in it called resveratrol which is associated with reducing the risk of Alzheimer's, dementia, storkes and heart attacks. Some articles and studies even suggest that a glass a day can aid in weight loss. Hmm...
4. Wine has fewer calories & carbs.
Don't you hate it when you get full before the entree? Choose wine and you can enjoy that entire nine course meal.
5. Star Power! All the cool kids are doing it.
John Legend, Brad Pitt, Angelina Jolie, Kyle MacLauchlan and Sam Neill are all in the wine business.
6. When it comes to how a wine tastes, you're never wrong!
You like what you like, enough said.

I'm dreaming of a white Christmas, but which wine would pair best with snow?
Why is it that we drink more red wine when the weather gets colder? Let's take a look at it from the other side - why do we drink more white wine when the weather gets warmer?
It could be partly due to the fact that we change our eating habits when it gets warmer. We eat lighter in the spring/summer to fit inot our shorts and skirts. Some of the white varietals are a more typical pairing to salads and cold dishes. Also, when it's hot ouside, a nice chilled wine hits the spot.
When the weather starts to get colder, football games are on and hunting season begins. I can't wait to make chili and cornbread, cassoulet, pot roast, smoked meats, or any meat that I can roast or braise all day. These types of low and slow cooked meats with roasted root veggies are so often paired best with red wine.
We know what we are accustomed to drinking with specific types of food, but what if we thought outside of the box?
My husband and I conducted an in-home experiment. Putting our notions of ordinary pairings aside, and fooling our senses, would we drink white in the winter? We allowed our white wine to get to room temperature, and tasted wines blind. Some of our findings were interesting. We didn't mind most of the fuller bodied wines, aged in at least some oak, at room temperature as long as the wine was of quality. The lighter bodied wines, which had been aged in stainless steel, weren't as good at room temperature as their acid became too prominent. What we did miss was the darker berry fruit, spice, and herbal componenets generally found in red wines.
The consensus was that we do enjoy eating and drinking seasonally and customarily. There is a reason for the season, as they say. I will no longer wonder or try to reinvent how people have paired wines with food for decades. I will look forward to diversifying my drinking syle, as the seasons change, in the same way that I look forward to putting on sandals in the summer and sweaters in the winter.

In February, the Oregon Wine Board released an industry economic impact study done by Full Glass Research. Given the improbably rosy conclusions, the research firm is aptly named. Among the findings:
The Oregon wine industry contributed $3.35B to Oregon's economy in 2013.

Some 600 wineries sold 2.7M cases, generating revenue of $363M
Over 17,000 wine-related jobs produced $527M in wages.
Wine tourism generated $208M.
Winery tax and licensing added $63M to state coffers.
On the surface, the figures look impressive but when taken in context and proportion, they diminish considerably. If one considers the employment figure, for instance, 17,000 or more wine-related jobs somehow tied to 600 wineries would mean nearly 30 per winery. Fewer than twenty wineries in the state employ 30 people. Such an accounting is thus an extrapolation that would likely include every employee at The Allison, part-time maids at B&B's, the employees of every new restaurant opened in wine country and so on. Furthermore, $527M in wages would mean that the average job paid $31,000, far above the $18,000 average for the leisure and hospitality industry compiled by the Oregon Blue Book.
One could argue that since 40% of wine produced in Oregon is purchased intra-state, that portion of the cited $363M of revenue cancels out in terms of Oregon economic impact as each dollar going to a winery is a dollar coming out of another Oregon pocket. However, if the whole $363M of tangible benefit is allowed to stand and the $208M of tourism could be deemed directly attributable to wine, over 80% of the purported $3.35B remains unaccounted.
So what comprises this remaining 80%? If Oregon wine is an industry at all, it is really a cottage one as there isn't a regional vertically integrated supplier infrastructure apart from viticulture. Barrels come from France via California, most equipment suppliers are located outside Oregon and even most warehousing and shipping is based out-of-state. Vineyard supplies are generally furnished locally but run maybe $1,000 per acre. With 40K acres planted in Oregon, that adds only another $40M. Wineries supplies might be twice that given the expense of barrels so say, $80M.
As to wages, vineyard labor averages around $4,000 per acre so again, with 40,000 acres, the labor total would be around $160M. Most Oregon wineries are sole proprietorships with maybe one part-timer to help. So, adding the larger wineries and granting an average of four employees, average payroll is at most $150,000. Spread across 600 wineries (many virtual), that buoyantly amounts to $90M, making total direct labor about $250M.
Most noteworthy about the tax and license contribution figure is its incidental proportion to the overall state budget. With Oregon's 2015 budget at $9.5B, the $63M afforded by the wine industry represents well less than 1% of the whole.
The major direct components (sales, tourism and real winery/vineyard material and labor inputs) together aggregate to a little less than $1B. One could augment this by double counting the cited $128M crop value as sales to wineries but the real economic impact is already in the cost of labor and materials. The direct economic impact of Oregon wine might thus stretch to $1.2B but at $3.35B the taffy breaks.
Notably, economic impact studies rarely, if ever, disclose their tabulation methodology in an appendix.
A paragraph on banking, however, reveals even if only in a small degree specious inputs. Banking is said to employ 85 people and generate some $20M in revenue related to wine in Oregon. Vastly the greatest share of winery lending is based in California. Bank revenue of $20M would come largely from interest. At the 4% prevailing rate, $20M would equate to $500M in lending whereas winery lenders (almost exclusively California-based) estimate that there are perhaps 50 "bankable" wineries in Oregon with the entire Oregon portfolio well below $500M. The presence of Oregon banks other than depositories in the industry is negligible, so that rather than 85 bank employees being devoted to wine, in reality not a single one is.
The compounding of these plausible truths and the double and triple counting of revenue serve only to underwrite the preservation and furtherance of the organization. We would be better served by honestly addressing and investing in the marketing shortfalls and needs that keep Oregon wine from really being a $3.35B industry.

In celebration of the UN naming 2015 the International Year of Soils (IYS), I think it is only fair to write about soils; however, there is only one way to do it justice...a SOIL SERIES! So, we will be bringing a series of soil related blog postings that will hopefully get everyone just as excited as we are about soils.
To kick off the series, I'll share with you an epiphany I had while reminiscing about the soil classes I took during my undergrad: When describing a wine, many of the terms used to identify specific qualitites of that wine are shared by soil scientists when describing soils. Our Tasting Room Manager, my fellow Karen at REX HILL, and I have put together a table of descriptors for your enjoyment.
| | | |
| --- | --- | --- |
| DESCRIPTOR | SOIL | WINE |
| Aroma | A healthy soil will have a "good" aroma - if you're getting off aromas from a soil, that's a clue that there's something going on with it. | Also known as 'the nose' of a wine, aroma is what the wines smell like, from the "good" aromas of fruit to floral to earthy components. If the wine has an off aroma, it could be an indication of a wine fault. |
| Structure | Structure is simply the arrangement of soil aggregates. Soil structure influences water, air and nutrient relations in the soil. Promoting good soil structure is crucial to keeping a vineyard healthy. | Structure refers to the relationship and, ultimately, the balance of different components in wine such as acid, tannin, alcohol, body, texture, etc. A good structured wine has a greater potential to age longer. |
| Texture | Texture refers to the percent of clay, silt and sand particles in the soil. Soil scientists are often able to tell a lot about a soil based on how it feels (i.e. a soil with a higher percent of sand may feel gritty). | Texture is a component of structure, and is the general sensation or overall mouthfeel of the wine that incorporates the weight, body, tannins, etc. (i.e. a wine with more tannin may feel chalky or grippy on your palate). |
| Acidity | Soil acidity is important to take into consideration when planting any crop, and can be altered by many farming practices. Blueberries, for example, thrive in acidic soils (a pH of 4.5 - 5ish), whereas wine grapes need a slightly higher pH soil (5.5 - 6.5ish). The soil pH affects the availability of nutrients in the soil. If plants that are not suited to a soil's specific pH are planted, nutrient deficiencies and/or toxicities will become apparent, and the plan will not thrive. | Acidity is another part of the structure of wine, and it refers to the amount of perceived acid in the wine. Without acidity, wines taste flat, soft or flabby, but with too much acidity, wines can taste tart, sharp or sour. |
| Balance | A loaded term when it comes to soils - this is a drastic over-simplification, but a healthy balanced soil works like a well-oiled machine. In agriculture, we have to be very aware of the consequences management hsa on the soil's natural systems lest we throw a balanced soil system out of balance. | A loaded term when it come sto wines as well - on a broad scale, balance refers to the overall perception of the structure at the end of each taste. It is the relationship equilibrium of all the components in wine (acid, tannin, alcohol, body, texture, etc.). When no one component sticks out more than another, the wine has balance, a sense of elegance and completeness, which is a hallmark of great wines. |

I think just about everything pairs with Pinot Noir, with one awful exception. Pinot is light enough not to overpower food, but flavorful enough to add depth and nuance. Perhaps not every dish can have the impact that the perfect Pinot Noir pairing can have (lamb chops, Chantrelle mushrooms, pan-fried salmon - wow!), but the overwhelming result is at least pleasant, easy, and doesn't leave me with a massive headache the next morning. (The awful exception: frosted animal cookies. Don't ever try this. Ever.)
Transcendent pairings don't come around often. When this rare and wonderful event happens, it's important to give pause and relish the moment, then tell everyone you know so that they can share in the joy. And if you find something truly bizarre, unexpected and inspirational, well, you write a blog post.

My top 5 surprisingly transcendent pairings:
Mezcal and Chocolate. I have a strong affinity for both of these things. It was only a matter of time before I made the happy discovery that they are wildly perfect together.

Aussie Shiraz and Vanilla Bean Ice Cream. Trust me on this. An old friend stumbled upon this gem and we have since tested the pairing on multiple occasions. It works. I'm not sure why, but it works.

Chablis and Kettle Chips. Yes, everyone knows about all things fried with Champagne, but to me this is the superior pairing. Chablis' fresh acid and high minerality, yet round, rich palate is the perfect accompaniement to my ultimate guilty pleasure.

Oregon Pinot Gris and Salsa. A great alternative to lager for Mexican feasts, especially if gluten is not your friend.

Australian Stickies and Gazpacho Soup. Stickies are Aussie-speak for dessert wines. Paired with the high acid of hte gazpacho, this is an unexpected treat.

Many people have asked me what it was like to be pregnant while working at a winery. Little do they know, that was the easy part. Keeping the big news private for 12 weeks, on the other hand, was where it got difficult. Dodging a special end-of-the-day glass of wine was no easy task! Here are a few tips on how to get out of that occasional, oh-so-delicious, glass of Pinot without telling everyone you are pregnant:
1. Go on a detox cleanse.
Most wine people are health conscious so being on a detox cleanse isn't too inconspicuous.
2. Select a ninja of a wing man/woman.
Pick someone who can keep a secret. They must be willing to swoop in at a moment's notice to save you from a stick situation. Especially for toasts, they will need to swap their empty glass with yours without others noticing. They need to be able to be sneaky to slip some out or be able to handle two glasses as they will be acting as your designated dump bucket. In return, you are their designated driver.
3. The "I have a cold" excuse.
This one requires a good poker face. One little slip up will have the rumors flying! The "don't waste the wine on me right now" always works with a cold.
4. Always have somewhere to be.
Make it a point to always have something planned after work. No one thinks twice if you have to be somewhere. They just think you're a really busy person.
12 weeks is a long time to keep your big news a secret, especially when you're surrounded by fantastic wines. After I was able to announce it to my co-workers, I became the in-house quality control liaison for faulted bottles. With a heightened sense of smell, I was a useful tool for our Tasting Room.
Best of luck to all you expectant moms out there who love wine!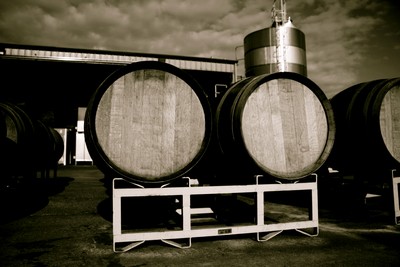 Besides witnessing the pure magic of yeasts and different micro-organisms transforming grapes into a wine that can age for decades, what fascinates me the most about my job is my work with barrels. They are rough and simple in their conception yet extremely sophisticated at the same time. Manufacturing a barrel is very artisanal and cannot be mass produced with machines. Only a human being, using all his skills and all his senses, can bend the staves, toast and put together the different pieces to craft a barrel. No matter how consistent a barrel producer is trying to be, every single barrel will be different from one another.
Barrels, as we know them today, most likely originated with the Celtics more than 2,000 years ago. Gauls and Romans developed barrels as a reliable and efficient way to ship wine across Europe. Oak became the main wood used to make barrels. It is a soft type of wood and therefore easier to bend. It was also abundant in the forests of Europe and its tight grain offered a waterproof storage solution. Overtime, people dealing with wines stored in barrels discovered the positive effects that oak had on the wine and thus began the practice of aging wine in a barrel.
Now days, barrels found in a winery are mainly made in France from oak trees grown there. Barrels made in the USA and Hungary, for example, are available as well. While visiting a winery in Argentina, I even came across a couple of barrels made in China.
When a winemaker has to purchase a barrel, here are the criteria he has to choose from:
Cooper
Country of origin
Type of wood
Shape and volume (Burgundy 228 liters, Bordeaux 225 liters or Cognac 300 liters)
Forest (Allier, Vosges and Tronçais are the main growing regions)
Level of toast for the inside of the staves and the heads
Number of years the oak was left to dry before being used
All of these will have a profound impact on the wine produced.
So every time I roll an empty barrel, place it neatly on a stillage and fill it with wine it reminds me that, even if we have modern tools, winemaking is still very much craftsmanship.
Recent Posts
October 12, 2018

June 7, 2018

October 30, 2017

October 23, 2017

September 13, 2017

April 17, 2017

July 21, 2016

June 2, 2016

May 25, 2016

May 18, 2016
Blog Categories
Blog Archives
Our Writers