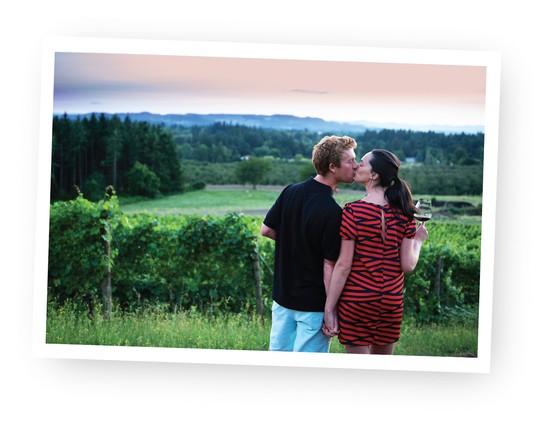 At IPNC,
A barista beauty
Served a cup to a handsome young Aussie.
She stole his heart,
Though he had to depart,
Soon returning to ask her to marry.
It's easy to see
Their sweet harmony
As they've grown to now be a family.
His commitment is key
In all things A to Z
For rewards don't always come simply.
Ryan grew up surrounded by vineyards and beaches in Margaret River, Western Australia. He studied Viticulture at the University of Adelaide while working in the Barossa Valley, McLaren Vale, Adelaide Hills and then Pegasus Bay in New Zealand. In 2009, his love for Pinot Noir drew him to Oregon's Willamette Valley for a harvest. He fell in love with the region and his future wife, returning to settle with A to Z Wineworks and REX HILL on his birthday in 2010. Today Ryan is A to Z Wineworks' Director of Viticulture responsible for improving quality and establishing sustainable farms across Oregon. His enthusiasm, knowledge, rigor and commitment to excellence are some of the reasons we treasure his contribution to A to Z and REX HILL.
In January, Ryan and Jess welcomed their son Angus to their family. Ryan is looking forward to teaching Angus how to surf and then spending hours in the ocean with him!